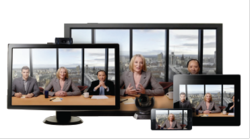 Boston, MA (PRWEB) January 12, 2012
Datamart is excited to announce LifeSize © ClearSeaTM, an enterprise-class client/server solution for desktop and mobile video collaboration.
LifeSize ClearSea is open and interoperable; users can seamlessly connect from their desktops or mobile devices to any standards-based video collaboration system or infrastructure solution in seconds. LifeSize ClearSea Server is available as a hardware appliance or virtual machine software and includes a state-of-the-art HD desktop client for PC/Mac and Android/iOS smartphones and tablets. Users can experience universal video collaboration with true mobility—anyone, anywhere, now on any device.
With the evolution of the mobile landscape, there has never been a better time to bring HD video collaboration to every worker, in every location, on every device to enable increased collaboration and maximize productivity. Enter LifeSize ClearSea—an enterprise-class client/server solution for desktop and mobile video collaboration that's simple to deploy and scale across the enterprise. Designed for organizations that need to broadly deploy HD video conferencing to hundreds or even thousands of users, LifeSize ClearSea provides a flexible, interoperable solution for instantly connecting any desktop and mobile device to the meeting room.
LifeSize ClearSea enables professional, Full HD video collaboration at 1080p for an immersive, true-to-life experience. Powerful collaboration tools such as user groups, multiparty calling, presence and text chat, a centralized contact list for easy directory dialing and single number reach ensure that workers can connect faster and easier than ever before. Completely interoperable with all standards-based video systems and infrastructure solutions, the integrated HD desktop client provides flexibility by working with PCs and Macs and also with Android and iOS smartphones and tablets.
With a choice of a hardware appliance or virtual machine software, organizations have complete flexibility. Concurrent licensing plans eliminate hassle, cost and complexity, saving valuable IT budgets and enabling broad deployment throughout the organization. Built-in automatic NAT/firewall traversal and embedded media encryption provides secure video collaboration inside or outside the organization without additional equipment or IT resources.
About Datamart
For over 35 years, Datamart has helped New England businesses design, install, and support cutting-edge unified communications solutions that are vital to their success. They have extensive experience as a LAN/WAN network integration firm. Unified Communications is the integration of voice, data, and video, along with applications, delivered on a single network. They offer installation and support on Voice Over Internet Protocol (VOIP), video conferencing, business phone systems and other unified communications solutions for businesses and call centers in Boston, MA and nearby areas.
To learn more about LifeSize ClearSea contact Datamart today.
http://www.unifiedcommunicationsboston.com
###