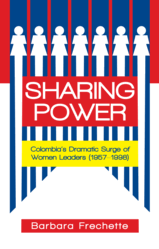 More women are definitely needed as U.S. political and economic decision makers.
Bethesda, MD (PRWEB) January 12, 2012
A new book is shedding light on the progress of women in Latin America, creating a foundation for discussion about the divisions that continue to plague U.S. feminism.
In "Sharing Power" (published by iUniverse), author Barbara Frechette celebrates the ambition, intelligence, and hard work of female outlier leaders in Colombia, and the richly empowering 41-year era that produced them between 1957 and 1998. Crediting their rise to power to Latin America's inclusive, non-combative leadership style and its regional legacies of female participation in politics, seven barrier-breaking women analyze this paradoxical surge of female leadership in a violent period.
Frechette herself is no stranger to the demands of being "first female." She was among the first women to enroll in Gonzaga University, one of the earliest executive trainees at IBM in Seattle, and during her time at Boeing, the only female technical writer in its engineering department, a job she left to accompany her U.S. ambassador husband throughout his 35-year Foreign Service career.
"Having been in this role myself several times, I realized how demanding those challenges must have been," says Frechette. "Especially for women in Colombia who braved them during a drug war."
Frechette's pioneering experiences and her 1994 arrival in Colombia served as the inspiration for her previously published book, "El Poder Compartido." This English re-release, "Sharing Power," praises the economic progress of U.S. feminism, but suggests that U.S. women should now follow Latin America's feminist model of political participation.
"More women are definitely needed as U.S. political and economic decision makers," says Frechette. "As this book points out, Latin America is way ahead in electing female presidents. I hope that 'Sharing Power' might inspire the collaboration of many U.S. women to seek the Latin American model of a more representative sharing of governance in our nation."
"Sharing Power"
By Barbara Frechette
Approximately 176 pages
ISBN: 9781462010981
Retail price: $15.95
About the author
Barbara Frechette has a bachelor's degree in journalism from Gonzaga University in Spokane, Wash., and advanced studies in economics and journalism from American University and the University of Maryland. Accompanying her husband, Myles Frechette, in his 35-year Foreign Service career, she was editor of the "American Foreign Service Women's Newsletter" and published an article about the role of the Foreign Service spouse in the "American Foreign Service Journal."
While in Colombia, her article about women leaders was published in Semana, the nation's leading newsmagazine. In 1999, the profiles in "Sharing Power" were published in Colombia as "El Poder Compartido." Now retired from the Foreign Service, Frechette and her husband live in Bethesda, Md., near their two children and five grandchildren to whom this book is dedicated.
EDITORS: For review copies or interview requests, contact:
Jessica Kiefer
Phone: 317-602-7137
Email: jkiefer(at)bohlsengroup(dot)com
(When requesting a review copy, please provide a street address.)
# # #