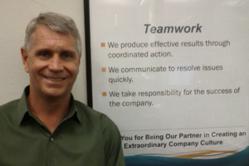 Fort Myers, Florida (PRWEB) January 10, 2012
Just one year ago, TZ Insurance Solutions LLC (TZ Insurance) received financial incentives to locate in Lee County and open a new regional office to operate a full service "digital insurance agency" providing inbound, outbound, web, and back-office services. To date, 141 local professionals have been hired since the company launch in the Fort Myers area, exceeding initial projections of 125.
According to Rich Akin, CPA, senior vice president of finance at TZ Insurance, all employees were hired locally and the majority with salaries in excess of the Lee County average wage. These positions include licensed insurance agents who sell individual life and health insurance products, sales managers, operations managers, human resource professionals, and other administrative positions.
"We have experienced tremendous growth over the last year beginning with one core client and 20 agents, and today successfully managing four national clients with 121 agents with three current open positions to reach capacity," said Akin.
"TZ Insurance is an employee-driven company with a strong focus on offering training, professional development, a positive work environment, and incentives for personal and company success. It is our mission to become a premier employer in Fort Myers recognizing that our people are our strongest asset," continued Akin.
During the initial Fort Myers office launch in fall of 2010, TZ Insurance pursued local licensed agents through direct mail inquiry and other networking initiatives. Among the first agents to be hired was Terry Zornes (photo below), a licensed agent from Fort Myers, who was actively seeking employment in Southwest Florida.
"This was a rare opportunity to join an emerging company offering job stability, competitive benefits, and truly a great place to work -- all without relocation," recalled Zornes.
Zornes was quickly promoted to sales supervisor and then again to sales manager leading a team of approximately 50 agents on behalf of a large Medicare Supplement insurance carrier.
With overall client growth and annual healthcare open enrollment season underway, TZ Insurance is well-positioned to navigate through one of the busiest times of the year, primarily selling in markets outside of Florida, through continued training programs and professional development.
"My career is back on track and I am proud to be a part of a growing company where everyone is happy, helpful, and professionally driven to excel," continued Zornes.
"The launch and expansion to the Fort Myers area has been flawless and we are ahead of our annual milestones in terms of office operations, hiring, and sales," said Akin. "We credit this aggressive timeline to the genuine community support, the professional leadership of the Economic Development Office and business community, and the strength of the well-qualified workforce candidates."
"The economic impact in Lee County for this project could be more than $10 million over the next three years," stated Jim Moore, executive director of the Fort Myers Regional Partnership, Lee County's Economic Development Office. "We applaud their entrepreneurial spirit and assertive acclamation into our business community to contribute to the economic health and business diversification of Lee County."
TZ Insurance is located at 12901 McGregor Boulevard in Fort Myers and is open to receive recruitment applications weekdays between the hours of 9 a.m. and 5 p.m.
About TZ Insurance and TRANZACT
TZ Insurance Solutions LLC is a wholly owned subsidiary of MG LLC d/b/a TRANZACT (TRANZACT). Based in Fort Lee, New Jersey, TRANZACT is the leader in providing end-to-end technology-driven customer acquisition solutions to the financial services and media and telecommunications sectors. TRANZACT leverages and integrates sophisticated digital, data, and direct marketing solutions to deliver qualified leads, fully provisioned sales, and robust customer management systems to brands seeking to acquire and manage large numbers of customers.
About Fort Myers Regional Partnership
The Fort Myers Regional Partnership works to attract new and diversified businesses resulting in high-wage, high-skilled jobs; retains and encourages the expansion of existing businesses and improves the overall business environment. Lee County is a thriving business community with a highly regarded airport, significant corporate development and ample real estate opportunities. The area is attracting, retaining and growing high-value businesses with a unique blend of an outstanding business climate and superior quality of life. The county is home to five vibrant cities--Fort Myers, Bonita Springs, Cape Coral, Fort Myers Beach, and Sanibel--and is the heart of Southwest Florida.
The Partnership continues to promote and build the region through ongoing efforts from its proactive team of domestic and international recruiters, research staff and community liaisons, as well as through its partnerships with the Horizon Foundation, the Horizon Council and the Lee County Industrial Development Authority.
Since 1996, 4,896 new jobs and $1,035,570,586 in economic impact have been committed to as a direct result of key local incentive programs; Lee County Job Opportunity Program and the First Incentives for Recruiting Strategic Targets as well as State of Florida incentives and the State Closing Fund.
In addition to the core website, http://www.FortMyersRegionalPartnership.com, Fort Myers Regional Partnership can also be found on these popular social networking sites: Linked-In, Facebook, Twitter and YouTube.
Editor's Notes:
Unique story angles, resources and trend data are available in the online Media Center at http://www.FortMyersRegionalPartnership.com/AboutUs/MediaCenter
For executive interviews, success stories, and additional media relations services, please contact Jennifer Berg, Fort Myers Regional Partnership, via phone at 239.338.3161 or email at JBerg(at)leegov(dot)com.
###