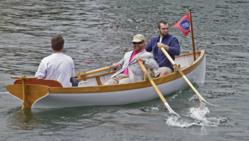 "Boat shows are excellent places to learn about marine careers."
--Susan Daly, IYRS
Newport, RI (PRWEB) January 11, 2012
When thousands of boaters from throughout New England head to the Providence (R.I.) Boat Show this week, they will see powerboats, sailboats, and all the equipment needed to enjoy time on the water this summer. But some boat-show attendees will be shopping for something deeper than summertime fun: a new career direction.
IYRS, a Rhode Island trade school that trains individuals to work at boat builders and other marine companies, will be exhibiting at the show to introduce New Englanders to its latest training programs. The boat show takes place in Providence from January 12-15.
"Boat shows are excellent places to learn about marine careers," says Susan Daly, IYRS Vice President of Programming. "Not only can individuals see what is out in the marketplace and talk to industry players, but they can also learn about the training programs that lead to jobs in this industry."
IYRS will be exhibiting with the Rhode Island Marine Trades Association at the Providence Boat Show. The school has campuses in Newport and Bristol and offers three full-time programs that train students to enter the marine industry in New England and other regions.
The school maintains a close communication with local industry to ensure their programs are teaching the skills in demand in the current marketplace. Even in a down economy, IYRS students that matriculated from the school in spring 2011 had an 85% job-placement rate at graduation time.
The school maintains two campuses in Rhode Island, in Newport and Bristol. Each locale is uniquely suited to the programs offered there. The waterfront campus in Newport is home to the full-time Boatbuilding & Restoration program, where students learn to build and restore classic wooden boats. The Newport campus includes two historic buildings from 1831 and 1903 and is the site of notable historic restorations, including the restoration of the rare 1885 schooner yacht Coronet.
The Bristol teaching facility is home to the Marine Systems and Composites Technology programs. Students in the IYRS Marine Systems Program learn to install, troubleshoot and maintain the onboard systems used on modern and classic boats; students are trained to sit for American Boat & Yacht Council certification, a gold-medal standard in the industry. Students in the Composites Technology Program learn both hands-on skills and the theory behind this fast-evolving technology; the program is targeted to meet the needs of the marine industry, but graduates will have a choice of career paths since the high strength-to-weight ratio of composite materials pioneered by boat builders is now in demand by many industries—including wind energy, aerospace, and transportation.
For more information about IYRS and its programs, visit http://www.iyrs.org or contact the school's Admissions Department at 401-848-5777, x216 or admissions(at)iyrs(dot)org.
###