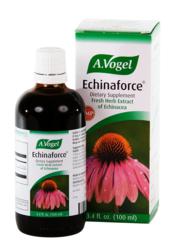 It is the best researched Echinacea available, and the only one with a proven mode of action for immune support. Consumers feel confident using it.
Ghent, NY (PRWEB) January 13, 2012
Bioforce® USA has announced that its singularly distinctive Echinacea productfor immune support, Echinaforce® has received another accolade. The editor's of the The Herb Companion have placed "Echinaforce®" at the top of their "List of Likes" to be unveiled in their Feb/Jan issue. Since 1988 The Herb Companion has been the authority for healing, gardening and cooking with herbs, with each issue featuring health and wellness information. According to Pierce Sioussat, President of Bioforce USA "we are very happy about this. Echinaforce® has been winning awards for years, many in Europe and Canada. However, it is particularly gratifying for us when we receive such an honor from one of our own U.S. publications devoted to promoting the health benefits of herbs. Of course, we are not surprised that Echinaforce® would be singled out in this way. It is the best researched echinacea, and the only one with a proven mode of action for immune support. Consumers feel confident taking it."Echinaforce® is certified as meeting Swiss Pharmaceutical Good Manufacturing Practices (GMP's) and has been used safely and effectively since 1960. Along with the safety factor consumers are attracted to the documented effectiveness of Echinaforce®. Launched more than 50 years ago, Echinaforce® is still relied upon as the number-one immune-support supplement by families in 30 countries who collectively consumed more than three billion doses! Bioforce® AG, the family company that manufactures Echinaforce®, has also invested in eight research studies to prove its active value in supporting immune health when exposed to environmental challenges. Bioforce® researchers are distinguished in that they also were the first to identify how Echinacea alkylamides actually work in the human body to bolster immune function.About Bioforce USA
Bioforce USA has created long-term strategic alliances with European manufacturers of product lines that have years of clinical research support for safety and efficacy, plus years of repeat consumer use. Bioforce USA has brought these lines, which include A. Vogel, Sanhelios, Herbatint, and SECURE exclusively to the United States for distribution through natural products and health food stores. For more information go to http://www.Bioforceusa.com or call Eileen Sheets at 800-641-7555 x100.
# # #