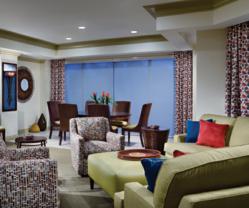 Everyone that has seen this renovation is apparently thrilled with the entire project. --Dan Buckley, Pres/Condo Assn
Ft. Myers Beach, FL (PRWEB) January 11, 2012
The completely refurbished social room of Waterside V/Dolphin Pointe condominium on the south end of Ft Meyers Beach has been opened for the enjoyment of the 54 residents, according to Dan Buckley, President of the condo association. The 2,000 SF facility, including an adjoining galley kitchen, was stripped to the bare floor and renewed to the ceiling this summer.
The project was overseen by Decorating Den Interiors of Bonita Springs. Owner Cliff Welles, ASID, reported that new flooring, window treatments, lounge seating and dining tables for 24 persons were selected for a bright, sophisticated tropical look. Additions for entertainment include a pool table, bistro tables, two large HD-TVs (with blue-tooth and stereo sound bars) and a new pass-through to the kitchen, which can also be utilized for bar service.
The kitchen was also renovated with new appliances and cabinets to double the storage space. Quartz counter tops with embedded sea shells enhance the tropical feel. Two large buffet servers can be complimented with a cover for the pool table, expanding buffet area for large parties.
Decorating Den partner, Judy Underwood, Allied ASID, designed drapery treatments with embroidered, colorful seashells, with contrasting fabrics for swivel chairs, sofas, and bar stools. "We included a small tiled dance area at one end of the carpeted party space to provide even more entertainment flexibility for the owners' enjoyment", said Underwood.
The project was completed on time and on budget in December. The Grand Opening event for the membership is this week.
Welles and Underwood own Decorating Den Interiors design studios in Bonita Springs and Sanibel Island, where they have been voted BEST Home Interiors annually since 2007. For more information, see http://www.GulfCoast.DecoratingDen.com or call 239.948.9779
###