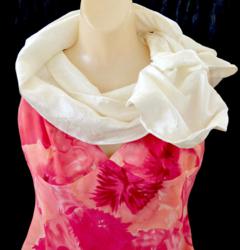 A Tyz Wired Scarf worn on the shoulders is also practical because the scarf stays on your shoulders while you move about!
Frederick, MD (PRWEB) January 11, 2012
http://www.tyzscarves.com releases the new mini shawl as a perfect option for casual evening attire on a cruise. No matter what the choice is for dinner attire, most women want to feel dressed in a special way. The Tyz Wired Scarf transforms casual wear, whether it's a sun dress or sleeveless top into a much more elegant look. Any dress or top with a simple neckline can be worn with a scarf. Despite being in warmer climates, evenings are cooler so a scarf serves to keep off the chill in case the dining room or the showroom is cold.
"Many women enjoy wearing bright colors and tropical style prints on a cruise. Adding a white scarf can add a sophisticated element to that island look. " said Ruth Bielobocky. "This scarf has a matte, more casual look on one side and a shinier, dressier fabric on the other. The scarf can be styled to see both fabrics with endless styling options."
There is nothing more beautifully than having a stunning white scarf adorn the shoulders. The wiring enables the scarf to be styled around the neck to showcase a favorite necklace. Paired with fabulous jewelry, the white scarf adds a touch of femininity and romance.
A Tyz Wired Scarf worn on the shoulders is also practical because the scarf stays on the shoulders while moving about! The Tyz scarf ends can be rolled up for a mini shawl look giving fullness and coverage around the shoulders. This style is called the shoulder flower and can been seen in the Tyz styling video at http://www.tyzscarves.com.
No matter how styles change from season to season, the white Tyz Wired Scarf is a timeless and chic addition to the wardrobe. The scarves are priced at $49.00 and can be purchased at http://www.tyzscarves.com
Background:
Designer and inventor Ruth Bielobocky created Tyz Scarves in 2010. A dedicated scarf wearer, she became with scarves that don't stay put. So Bielobocky embedded wire into the seams of a scarf, combined fabrics for different looks in one scarf, and discovered a whole new way to accessorize with beauty and dependability. The company offers limited edition scarves in several fabric combinations and options. Key to manufacture is having the scarves sewn by a U.S. company. The Tyz© Boutique at tyzscarves.com is a woman-owned, U.S. business.
###