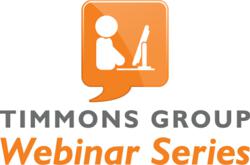 Richmond, Va. (PRWEB) January 10, 2012
Timmons Group, a leader in enterprise geospatial products and services, announced today an upcoming webinar on HTML5 for the Geospatial World. The webinar will take place on Tuesday, January 31, from 2 p.m. to 3 p.m. EST. Geospatial professionals are invited to join Timmons Group staff to discuss the industry chatter surrounding web-based mobile applications, HTML5, and new browser standards for local storage and geo-location. The webinar will demonstrate actual examples using the latest web-based mobile standards and technology used to solve real-world problems.
Chris Gerecke, Director of Enterprise Solutions for Timmons Group, will discuss mapping accomplishments, completing inspections, geo-locating, collecting data in remote locations, taking your maps with you into the field, and allowing the public to access an organization's spatial data with or without maintaining an expensive enterprise GIS.
Chris leads his team in architecting enterprise web, mobile and desktop applications aimed at assisting states, private companies, and the federal government with their enterprise geospatial needs. Chris is an acknowledged industry expert, whose team prides itself in developing innovative solutions designed to solve real-world challenges. Chris has been regularly featured with business partners Esri and Trimble as a subject matter expert.
To register for the webinar, please visit http://webinars.timmonsgis.com.
About Timmons Group
Timmons Group is a leading provider of geospatial, information architecture and engineering services focusing on developing intuitive, enterprise geospatial web applications, highly-usable, cross-device mobile applications, and integrated, geospatially-enabled enterprise solutions. Timmons Group develops solutions across multiple platforms, including Adobe Flex/Flash, Microsoft Silverlight, JavaScript, HTML5, and native mobile operating systems. Timmons Group is a privately held ENR 500 company and maintains a strong business partner relationship with Esri. Timmons Group has been a recipient of both the Esri Business Partner of the Year award and the Esri Foundation Partner of the Year award. For more information, visit http://www.timmonsgis.com
###