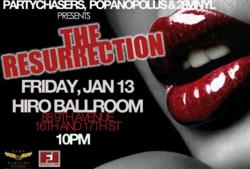 More than a party. It's a Movement.
New York, New York (PRWEB) January 10, 2012
There is serious change coming to the streets of New York City.
A change that brings transformation to the darkness; the underground; the night life.
The partying mayhem!
Resident event coordinator and founder of the Party Chasers organization, "Robert Cagle," donning the moniker "Rob Partychaser Trillionz," has crafted many of the cities most intensely original and mind blowing events. This Friday January 13th, should prove no exception. Having taken a bit of time to regroup since the Partychasers last party being featured on VH1, this event being thrown in SOHO's acclaimed "Hiro Ballroom," is being called "The Resurrection." When asked why he had slowed down, Rob Trillionz smiled, stating simply, "I just wanted to give the others a chance. But no, we're never going to stop. It's just begun."
Working alongside his partner, Julz Benny Blanco, the Young Prince of nightlife himself, there comes no doubt that this duo will be a formidable and inviting force on the party scene.
And give others a chance, they have. This monstrous event on the 13th is being co-hosted by the fast growing Popanopolous Productions, party and event group. Though arguably more of an underground organization, it's two young founders Travis Stallings and Donald Winston-Day (more aptly known as Don Deezy), have quickly made a name for themselves as some of the wildest men on the party scene. Labeled as wild, crazy, and as lovingly approachable as they come, these young upstarts will certainly bring the energy needed to make "The Resurrection" on Friday the 13th, a memorable experience for all involved.
We should also mention that all in attendance will be featured in the new Reality Show being produced by the Partychasers. That's right; to party with them is to attain personal recognition and fame.
Partychasers has officially teamed up with Popanopolous.
This city will never be the same.
###