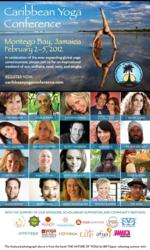 Denver, CO (PRWEB) January 11, 2012
Denver-based yoga clothing company, be present, will be a "Blue Mahoe" level sponsor for the 2012 Caribbean Yoga Conference. This year marks the inaugural event and it will take place February 2-5 in Montego Bay, Jamaica.
be present is excited to be a part of this new yoga conference as it brings together world-renowned yoga teachers in the beautiful surroundings of Montego Bay. The faculty lineup includes some of be present's own set of ambassadors referred to as their "all-stars." Among these individuals, Paige Elenson, Simon Park, Jason Nemer & Jenny Sauer-Klein are all scheduled to teach at the conference. Topics range from Vinyasa Flow and Journey Dance to Core Strength and Kundalini.
be present is also excited to send clothing to each of the Shakti Love Scholarship recipients. This scholarship awards Jamaican school teachers and social workers fully paid tuition and accommodations to the 3-day conference. Applicants who were able to articulate their willingness to explore yoga and it's applications to their work with youth were given highest consideration. be present is thrilled to contribute to these recipients by giving each an outfit to practice yoga in while attending the conference, if they so choose. The company's lightweight styles, made from its proprietary Breathe Weave™ fabric are conducive to practicing yoga in the warmer climate of Jamaica.
Most recently, be present hosted an email giveaway in which one person won a pass to the conference, valued at $345. The contest was a great success and helped grow awareness and excitement about the Caribbean Yoga Conference.
be present, clothing for the yoga lifestyle, was established in Colorado in 2002 by Amy Lopatin Dobrin and Jon Dobrin. All be present clothing is proudly made in the USA. The brand remains at the forefront of the yoga apparel industry, continually designing clothing that is original and functional.
###