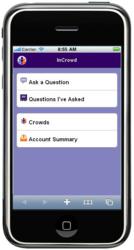 ''Immediate access to medical professionals, capitalizing on the time-value of market data is a major competitive advantage."
Boston, MA (PRWEB) January 12, 2012
InCrowd, Inc. (http://www.incrowdnow.com), the first company to bring real-time market research methodologies to the life sciences industry, has secured Series A Seed Funding led by Launchpad Venture Group and Walnut Venture Associates. InCrowd will use the funds to drive further technology development while expanding the marketing of its unique real-time research platform in the healthcare sector.
"Our goals in the coming year are focused on adding top talent to our team and expanding our portfolio of real-time data tools," said Janet Kosloff, InCrowd's Founder and CEO. "We have seen an increase in client requests for international projects, this spurred us to add global capabilities just a couple months after we initially launched our platform. Going forward we plan to continue developing our on-demand tools for global real-time data access."
InCrowd has successfully created a technology platform that connects pharmaceutical, medical device and life science companies with Crowds of screened and targeted health care professionals. Unlike traditional survey tools, this specialized crowdsourcing can provide results within minutes to marketing professionals who need fast answers to critical questions. The on-demand structure of the platform ensures easy and rapid question creation, while the single question format facilitates rapid Crowd response and insight.
"Having immediate access to medical professionals, capitalizing on the time-value of market data is a major competitive advantage in the extremely fast-moving healthcare and life sciences industries," said Jean Hammond, a well-known technology investor and member of Launchpad Venture Group. "As the industry need for fast and accurate market data continues to grow, InCrowd will be well positioned to meet the demand."
About InCrowd, Inc.
InCrowd was launched in March of 2011 by three women who saw a client need and knew there was a better solution; Janet Kosloff, CEO, Diane Hayes, PhD, President and Kathleen Poulos, Senior Vice President. Together the co-founders bring over 60 years of medical, business technology and market research knowledge to the company. InCrowd provides the life sciences industry with immediate access to health care professionals through a do-it-yourself platform designed to enable real-time capture of market insights specifically tuned to the immediate needs of the client.
About Launchpad Venture Group
Launchpad Venture Group is a Boston-based angel investment group composed of senior professionals in a variety of disciplines that provide private funding to early-stage companies in situations where their funding can make a difference in the success path of the firm. For more information visit, http://www.launchpadventuregroup.com.
About Walnut Venture Associates
Walnut Venture Associates is a group of Boston-area entrepreneurs/investors who have joined forces to fund and aid the development of local companies through their collective business experience and contacts. Individuals in the group have been founders and CEOs of over 20 companies and have invested in over 225 private companies. For more information visit, http://www.walnutventures.com.
# # #