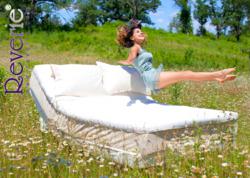 Silver Creek, New York (PRWEB) January 12, 2012
As an Apple licensee, Reverie's exclusive technology allows users to easily download their Reverie control app at the iTunes® store onto their iPad® or iPhone®, turning their device into a remote control for the Reverie sleep system. They may use either the Bluetooth® or Wi-fi features of their devices to control all the functions of the sleep system. Reverie has also integrated remote control power outlet technology into the sleep system, so a touch of the iPad® screen can turn on/off appliances around the room. With soothing massage, zero gravity, and control of the bedroom all at the fingertips of Reverie's customers, it's never been easier to relax in luxury!
The Reverie Showroom, B-925, will also be the place to see two Concept Beds that will give visitors a look into the not-so-distant future. The Concept Beds will have an all new look, unique adjustable features, new electronic controls and an array of exciting accessories.
The new technology focus at the 2012 World Market is a continuation of Reverie's technology revolution that starts with the rollout of a new remote control for the current Reverie Deluxe Adjustable Base. The new remote consists of a sleek new design with added features such as Anti-Snore and programmable memory positions.
Visitors to the Reverie showroom will be able to learn more about the Reverie technology revolution, while exploring mobile technology tools that are being developed to relay product information to consumers and retail sales associates.
About Reverie:
Reverie is one of the leading manufacturers of Innovative Mattresses, Adjustable Beds and Pillows to the trade and end consumer. With R&D and manufacturing center in New York State and warehouses throughout North America, Reverie manufactures all its mattresses in the USA and continues to be a cutting edge leader and innovator in the sleep products industry. For more information, visit the website at http://www.reverie.com or call Customer Service at 1.617.453.2086.
###