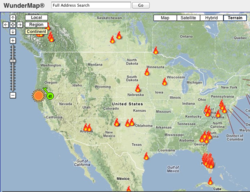 "Changing the world is what we're all about, and we are excited to be a part of the future"
-Sam Lanier, CEO FireWhat Inc.
Dunsmuir, CA (PRWEB) January 11, 2012
O'Reilly Media is hosting its sixth annual Where Conference April 2-4 in San Francisco, CA. The symposium focuses on the growing business of leveraging location awareness of potential customers available as a result of the GPS technology in today's ever-increasing mobile user market. Former invites include managers from Intel, Google, eBay, Loopt, Groupon, and others. The conference is a chance for today's industry leaders to come together and brainstorm the future. FireWhat Inc. CEO Sam Lanier is an invited guest speaker.
FireWhat Inc. is a start-up technology resource company dedicated to providing twenty-first century tools improving safety, risk management, awareness, and incident management of wildfires and other natural and man-made disasters where life, limb, and property are at stake. The company is made up of firefighters, and is intended not only for today's emergency service professionals, but also for educators, public safety officials, specialized disaster management response teams, and the 83 million civilians living in fire-prone areas.
Through strategic partnerships and alliances with several research and development teams, including NASA, Weather Underground, the Disaster Management Institute at Carnegie Mellon University, and IBM, FireWhat is working to develop potentially life-saving tools. The website includes a disaster mapping and tracking service provided for free to the general public. This innovative program allows anyone with an Internet connection to closely monitor major disaster incidents around the world. Wildfire incidents, for example, are picked up by the MODIS satellite and transposed on a Google map, with satellite terrain and political features. The fire's active perimeter is recorded and superimposed onto the map, with local weather factors such as temperature, wind, and humidity levels, critical factors in wildland fire. Severe weather warnings are mapped by county as they are announced.
The website's technology is available as an App on the Apple iOS platform, with two additional versions targeting non-firefighters and an Android-compatible edition coming out next month.
About FireWhat Inc.
FireWhat Inc. is a start-up company founded by an MIT grad and two professional firefighters. FireWhat's mission is to provide a professional platform that inspires the highest quality of emergency service training and education. Through development of web and mobile products, FireWhat Inc. seeks to update the antiquated delivery of emergency services training and to incorporate innovation into a technology-deprived industry.
###