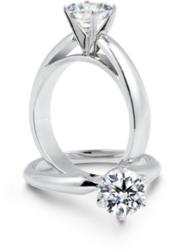 Make sure not to make any mistakes and mess the proposal up by brushing up on all the important details
Los Angeles, CA (PRWEB) January 12, 2012
Imagine this: It was two days before Christmas, and a guy sitting in the bleachers during a UCLA basketball game was waiting for the perfect moment to propose to his girlfriend. They were caught on the stadium's 'Mistletoe Cam' during half time, and as the girl leaned in to oblige the audience with a kiss, the guy took out a little black box, saying, 'I knew that I was going to do this since the first day that I met you, and I figured now was as good a time as any,' and then he knelt before her. When one utters the words 'Will you marry me?', the expected response would be 'Yes', not 'Is this a joke?' — with the shocked girlfriend running away. This poor young man had to bear the embarrassment of not only being rejected, but being booed by the crowd as well. The video of the unfortunate incident has recently gone viral, and it's definitely not a pretty sight.
Popping the question is arguably the most crucial part of taking a relationship to the next level — getting it right is most vital, if someone truly wants a shot at a 'happily ever after'. Getting rejected is always a possibility if one or the other isn't ready (just Google "fail marriage proposal" to see just how often — and how embarrassing this could be). So how exactly does one pull off the perfect marriage proposal? Brilliance.com offers an informative infograph on the do's and don'ts to proposing: Let this be a basic guide: the tips and little facts and figures make a great starting point for anyone getting ready to propose.
Make sure not to make any mistakes and mess the proposal up by brushing up on all the important details. For instance: the Brilliance.com marriage proposal infograph reports that 33% of brides said proposing without an engagement ring is the biggest proposal mistake, and that 50% of men say that telling everyone the proposal plan and blowing the secret is the biggest proposal don't.
This illustrated checklist of things to take note of while getting ready to propose is straightforward and easy to remember, plus it comes with a handful of facts and figures that could help further in preparing for the perfect proposal. With tips on how to choose a ring, to how to handle the proposal itself, it's a great read to help get things just right.
Get her to say 'Yes' and check out Brilliance.com for more engagement and wedding infographs, and take a look at their gorgeous selection of engagement rings and custom jewelry as well.
###