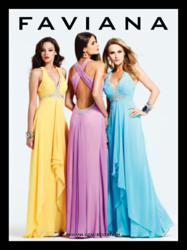 New York (PRWEB) January 12, 2012
Prom is the most exciting night in a girls' high school career. The night is filled with expectations of what to wear, who to go with, and what to do after prom. The stakes are high, the pressure is on and Faviana is here with the perfect solution for every girl going to prom 2012.
Faviana, one of the nation's premier womens' dress designers, is here to help teens navigate this exciting, stressful time of year with the publication of their first free e-book, Prom 2012 Night: How to Look, Dress, and Be Your Best.
Prom Night is the go-to guide for prom season. This e-book will solve many prom dilemmas. The e-book answers questions such as "what is the perfect gown for my specific body type?" to "do I really need to pay a hairstylist?" to "how soon is too soon to shop for a dress?"
"Prom is one of the biggest nights in a girls' life. The minute they get asked, so many questions go into her head. Faviana is there with the perfect dress, but this year we want to take it a step further and make the dress only part of their experience. We want to help girls' not only look great, but have a great night. This e-book will help them prepare, avoid disasters, and have a great time." Reports, CEO Omid Moradi
Here are some tips to the perfect prom night:

Start early! Four-five months before: Start scanning fashion mags and websites for gown inspiration.
If you don't have a boyfriend, get out there and flirt! You don't have to pick your prom date, but start laying the groundwork.

Your middle name should've been "Elegance" You'd wear gowns every day if you had your way. Okay, at least once a week. You love the regal feeling. You get when you're zipped into a curve-hugging mermaid cut frock or dancing the night away infull-length princessy ball gown.
Save money on your hair: Let your hair be someone else's learning experience. Most mid-size and larger towns have at least one hairstylist school. Make an appointment well in advance (they can fill up quickly
around prom time!) and have a student do your 'do.
For more tips, ideas and trends check out Prom 2012 Night: How to Look, Dress, and Be Your Best For Your Prom, a handy, downloadable guide that will walk teens through many aspects of prom in a fun, easy-to-follow manner. The e-book consists of timelines, checklists, fun quizzes, and even astrological advice! Don't miss out on this crucial guide to prom night 2012.
Faviana is one of the world's leading designers and producers of stylish, sophisticated evening wear. Owned by the Moradi family for more than 20 years, Faviana is renowned for their innovative dress style, quality workmanship and exceptional fit, as well as their meticulous attention to detail. The company boasts more than 2,000 retail accounts worldwide, including specialty boutiques and bridal shops in the US, Canada, Puerto Rico, Europe, the Middle East, South America and Australia.
Faviana's gowns have been featured in the New York Times, People Magazine, London Times, Us Weekly, and Teen Vogue, and on shows such as The Today Show, Access Hollywood, The View, E! Network, WABC-TV's Eyewitness News, The Rachael Ray Show, Inside Edition, and so many more!
For more information, contact:
Lauren Dubin
Lauren(at)faviana(dot)com
212-594-4422 x127
###