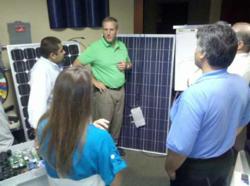 NABCEP is the standard.
Murrieta, CA (PRWEB) January 11, 2012
In addition to the regular week-long class, Ambassador Energy has added a Friday-only schedule for contractors who have trouble taking an entire week from their businesses. "We think this may help to accommodate students' busy schedules," said NABCEP certified trainer, Catherine Kelso. "We will cover the same material and just spread it out one day a week, instead of five consecutive days."
"NABCEP is the standard for quality in the solar industry today," said Kelly Smith, president of Ambassador Energy, Inc. "We encourage solar integrators to rise to the NABCEP standard, thus protecting our industry from solar knuckleheads and yahoos, who taint the credibility of the industry as a whole. As an ISPQ-accredited training facility, we believe we have a responsibility to raise the bar in this industry which has grown so fast. Time to reel it in and get all of the solar integrators trained and certified!"
Ambassador Energy's 'Intro to Solar PV' course is designed to give students every opportunity to learn the basics of solar photovoltaic technology and pass the NABCEP Entry Level [EL] test. Students are encouraged to take the test immediately, as AE statistics have proven it increases the odds of their passing.
The upcoming schedule for Ambassador Energy's 32-hour 'Intro to Solar PV' course and NABCEP EL test includes five consecutive Fridays, beginning March 2, 2012 and a full week February 13-17th, 2012. The classes and tests are offered at Ambassador Energy's headquarters and training facility in Murrieta, CA. Students may register online.
Class tuition includes test, textbook [$100 value] and the opportunity to build an actual solar photovoltaic system during class. The following subjects are addressed:

How PV Works
What Affects Solar Output
PV System Components
Electrical and Solar Terminology
Solar Site Evaluation
Shade Analysis
PV System Design
Solar Panel Racking
PV Permits and Contracts
Solar Installation Safety
OSHA Standards
Install a System in the Classroom
In addition to the NABCEP courses for Entry Level, PV Installer and PV Technical Sales, Ambassador Energy College continues to offer one-, two- and three-day training classes on related subjects, ranging from 'Solar for Electricians' to 'Become a Solar Referral Agent'."
Ambassador Energy is one of as very few ISPQ accredited firms in the state of California qualified to teach and test for the NABCEP Entry Level [EL] certification. AE trainers are NABCEP certified in both PV Installation and PV Technical Sales.
The Ambassador Energy training team also provides continuous coaching, training, support and customized training classes and webinars for its family of Authorized Agencies nationwide.
About Ambassador Energy
Ambassador Energy (AE) is a solar training and distribution company, with 89 Authorized Agencies operating in 17 US states. On staff are two NABCEP Certified PV Installers and one NABCEP Certified PV Technical Sales professional (Fulgham 012911-35/031310-74,Kelso 031310-124). AE provides a turnkey, consolidated platform of renewable energy training, support, product-agnostic distribution and evolving mindshare to a nationwide network of Ambassador Energy Authorized Agents, who are contractors and entrepreneurs augmenting their portfolios by offering renewable energy solutions to their clients.
Ambassador Energy offers their Agency program to qualified candidates. New Agency Training is offered approximately once every four to six weeks.
###