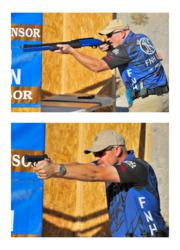 "Tommy and Mark are two of the cornerstones of Team FNH USA," said Ken Pfau, Senior Vice President of Law Enforcement and Commercial Sales for FNH USA
McLean, VA (PRWEB) January 11, 2012
Two members of Team FNH USA, Tommy "Tommy Gun" Thacker and Mark Hanish, have qualified for the 3-Gun Nation Championship Finale, Rumble on the Range, that will be held on January 18th during the 2012 SHOT Show in Las Vegas. This end of season invitational match carries a total prize purse of $50,000 and brings the top 8 shooters in the nation together in a man-on-man elimination format to see who will be named the top 3-gun shooter. Broadcast coverage of the 3-Gun Nation Championship Finale will air on NBC Sports Network in a special March air-date.
"Tommy and Mark are two of the cornerstones of Team FNH USA," said Ken Pfau, Senior Vice President of Law Enforcement and Commercial Sales for FNH USA. "Both of them are national caliber competitors and serve as outstanding representatives of the FNH USA brand."
"It's really exciting to be shooting against the best 3-gun competitors in the country," observed Thacker. "We've all been shooting qualifying matches for the last 12 months all around the country so the roster of the 2012 3-Gun Nation Championship Finale reads like a who's who in practical shooting."
"I'm pumped to have qualified for the 3-Gun Nation Championship Finale," said Hanish. "I've been working hard this season to excel in the man-on-man elimination format where anything can happen. You have to push yourself and your equipment to the limit and fight for every hit until the last shot is fired."
FNH USA, LLC is a U.S. subsidiary of FN Herstal S.A., a global leader in the development and manufacturing of high-quality, reliable firearms for the military, law enforcement and commercial markets. A pioneer in innovative firearm technology since the days of John M. Browning, the company supplies a variety of products to customers in more than 100 countries worldwide. Based in McLean, VA with manufacturing operations in Columbia, SC, FNH USA is responsible for all U.S.-based sales and marketing efforts. To learn more about FNH USA and its products, please visit http://www.fnhusa.com.
###