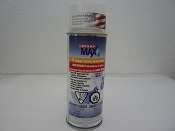 "Yes it can be done with a Spray Can!"
Carson City, NV. (PRWEB) January 13, 2012
"It is always hard to change from something that has been around forever, like acrylic lacquer, acrylic enamel, and acrylic urethane," says Dan Timmons, owner of All Auto Paints. "These products in their day were the top dog." When California implemented "Title 22 section 66261" in May 2005, this regulation lowered the legal limits on Volatile Organic Compounds, also known as VOC's. Therefore the automotive paint manufactures needed to make a product that complied with the new regulations, which became waterborne paint. Waterborne paint meets these requirements with quality and is "green" for the environment.
Yes, good for the environment, but for the shop and do-it-yourselfer, it is a huge change. This means purchasing new product and new equipment. This can be a major investment. Plus, shop owners like a product, and then it is no longer available because it does not meet the VOC regulations. Shop owner Sam Brown would just like to use the products he has used for years, but he can no longer purchase them in California.
VOC is a very broad term used to label certain chemicals that evaporate easily from the liquids they are mixed with. Many automotive paint products emit VOC's. Auto paint, thinner, and gasoline all emit gases that are often referred to as "Fumes of Vapors." In fact, VOC's are even emitted in nature by certain plants and trees.
To lessen the amount of VOC's released into the atmosphere every year; the California Air Resources Board set these tighter regulations. Solvent basecoat was replaced with waterborne basecoat. Waterborne allows the refinisher to meet all the standards. So the chemicals don't react with the gases in the air and environment, which contribute to smog and pollution.
Some of the affects this change has had on a hobbyist or the do-it-yourselfer is that waterborne paint needs to be sprayed out of a waterborne gun, so the gun will not rust. So a conventional gun can't be used with waterborne products. Also, waterborne paint needs to have enough air flow to dry. There are hand held air blowers that are now available but do add cost to the end user.
For that small job, this is where aerosol cans comes in very handy for the do-it-yourselfer. All Auto Paints has the state of the art can, Spray -Max. They spray like a gun without all the mess and government regulations. So to stay away from all the regulations, the spray can is still the easy way to go. Yes, it can be done in a spray can!
# # #