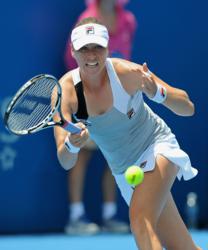 The Fila brand aligns so well with my personal style, and I look forward to wearing Fila's tennis line in Australia.
Sparks, MD (PRWEB) January 11, 2012
Fila announced today that it has signed an endorsement agreement with Grand Slam finalist Vera Zvonareva. The agreement with Zvonareva continues the legacy of Fila's sponsorship of elite tennis champions. Zvonareva joins an impressive roster of WTA Tour players that have worn the Fila brand on-court since the 1970s.
"Vera is a proven champion and we are elated that she has become an ambassador for the Fila brand," said Gene Yoon, Chairman of Fila. "The Fila brand has been worn by champions in tennis for almost 40 years, and Vera's style and grace are synonymous with Fila's core design philosophy of visualizing the beauty in sport."
Zvonareva, 27, has been ranked in the Top 10 on the WTA Tour for the past four years. In 2010, she achieved a career high world ranking of number 2, and was a two-time Grand Slam singles finalist in 2010 at both Wimbledon and the US Open. Vera has won 12 Singles titles and 5 Doubles titles including the 2006 US Open. She was a member of the Russian Fed Cup Team in 2003 – 2004, 2008 and 2011 and was a member of the 2008 Russian Olympic team.
"I have admired the Fila brand since I was a young girl and I am thrilled to join the elite group of athletes that have worn Fila throughout the years," said Zvonareva. "The Fila brand aligns so well with my personal style, and I look forward to wearing Fila's tennis line in Australia."
Visit http://www.fila.com to see the full collection of Fila tennis apparel and footwear.
Fila has a long and distinguished history in the world of tennis that continues with endorsements and sponsorships that include agreements with ATP Tour and WTA Tour athletes. Fila is a sponsor of the Sony Ericsson Open, the BNP Paribas Open and the Campbell's Hall of Fame Tennis Championships. Fila is also the footwear licensee of The Championships at Wimbledon.
In 2011, Fila celebrated its centennial anniversary, a milestone for this historic brand established a century ago by the Fila brothers of Biella, Italy. Fila is now a leading manufacturer of sport and leisure footwear and apparel distributed worldwide. The internationally respected company, having gained world-class recognition in tennis apparel, has developed brand recognition by marketing high design and style content products that are endorsed by professional athletes from around the world.
###