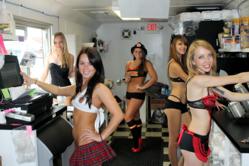 "I came in because I was curious about a coffee shop with girls in bikinis, but I was pleased to learn they have really good coffee and friendly service." -- Anonymous Customer
Orlando, Florida (PRWEB) January 11, 2012
Java Girls, a fast-growing national coffee shop franchise featuring attractive baristas wearing nothing more than bikinis and lingerie, has opened its newest location in Central Florida and customers are lining up for coffee and specialty espresso drinks served by scantily-clad workers.
The Java Girls franchise takes the widely-successful local coffee house business concept and gives it a risqué twist where its baristas grind, brew and serve a variety of coffee drinks ranging from the traditional "cup of Joe" to the more elaborated cappuccino and espresso-based drinks.
Since opening its doors in November 2011, Java Girls Orlando has been delighting customers with not just coffee, but an assortment of breakfast and lunch sandwiches that offer customers a convenient hot spot for getting their coffee fix and a quick bite on their way to work.
Java Girls' marketing antics include themed days, when baristas wear bikinis on Mondays, Wednesdays and Saturdays; lingerie on Tuesdays and Thursdays; and then there's Fantasy Fridays, when the girls wear sexy costumes—such as police girl or French maid outfits.
Many people drive by the uniquely decorated free-standing building painted in brick red with white wraparound awnings, staring as the bikini-clad baristas prepare the hot specialty coffee to a constant stream of customers.
"Java Girls makes me think of Starbucks-meets-Hooters", says a customer who requested to remain anonymous. "I came in because I was curious about a coffee shop with girls in bikinis, but I was pleased to learn they have really good coffee and friendly service".
Coffee at Java Girls Orlando is serious business and the company is committed to offering organic-grown coffee that is ground on-location for added freshness and taste, which is always a pleasant surprise for the shop's skeptical customers.
While the concept is risqué and daring, Java Girls' coffee shop is being noticed by locals who drive by its Lee Road location—and as its clientele grows, so do the profits for this titillatingly-themed business that has been curiously dubbed as a "sex-presso" bar.
The new Java Girls Orlando is located at 910 Lee Road in Orlando and its franchisor is working on opening a new location near the University of Central Florida looking to daze and serve coffee to college students and local residents.
ABOUT JAVA GIRLS ORLANDO
Java Girls Orlando is an independently-owned and operated franchise unit of Java Girls, Inc. This unique business concept offers a sensual twist on the traditional coffee shop by featuring espresso baristas wearing bikinis and lingerie. Java Girls Orlando offers a complete coffee and espresso specialty drinks menu, along with breakfast sandwiches, lunch paninis and energy drinks—all while scantily-clad coffee shop workers welcome customers with their smiles and entertain their sights.
For more information about Java Girls Orlando, please visit http://www.javagirlsorlando.com.
FOR MEDIA INQUIRIES, PLEASE CONTACT:
Bill Brognano
(772) 473-0469
# # #