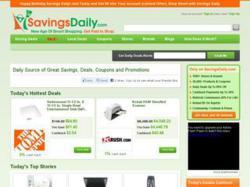 Each day new coupons, deals and discounts are added to keep the variety alive.
(PRWEB) January 11, 2012
Coupon and daily deal sites have been popping up all over the internet since the birth of Groupon. However, none offer the unique selection and layout of SavingsDaily.com. This website is one of a kind and features hundreds of deals on products, services and things to do. Not only bargain hunters can purchase deals for travel or attractions in their city but can also take advantage of up to 90% off items on sale.
By working with major merchants like Beall's, Best Buy, Zappos, Light in the Box and CowBoom, the website is able to offer consumers the deepest discounts on products that they want and need. SavingsDaily.com is the best way to get started on shopping for the holidays, a special occasion or event as well as birthday and anniversaries.
SavingsDaily.com features items in a variety of categories including jewelry, home and garden, shoes, clothing and electronics. Site members can stock up on favorite jeans or take advantage of 50% off of gaming consoles like the Nintendo Wii or Sony Playstation 3. The possibilities for savings are endless. Aside from advantage of steep discounts on items purchased there is also cash back bonuses on most items. With the cash back bonus shoppers will receive a small percentage back on purchase that is deposited into online account to be used towards next purchases.
SavingsDaily.com has discount for everyone, no matter what the reason to shop. There are so many deals and coupons to choose from, some lasting for months. Each day new coupons, deals and discounts are added to keep the variety alive. Site visitors and members can browse through past discounts, the informational forum or simply start shopping favorite category. The deals section gives consumers access to discounts on area attractions in cities all over the United States including Albany, Atlanta, Albuquerque, Phoenix, Philadelphia and Los Angeles. Everyone who's traveling or just interested in exploring own city will be able to find a daily deal that fits their needs and the budget through SavingsDaily.com.
###