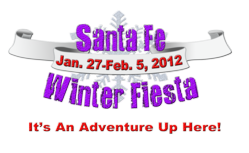 "The Santa Fe Winter Fiesta is a great way to experience the music, food and culture of Santa Fe," explains Scott Hutton of SantaFe.com
Santa Fe, NM (PRWEB) January 11, 2012
SantaFe.com and the City of Santa Fe announce the 2nd Annual Santa Fe Winter Fiesta January 27 through February 5. The fiesta runs 10 consecutive days and includes an array of fun events for everyone -- whether you're a brew festival fan, a music lover, a comedy show buff, a skier, or a foodie. The Winter Fiesta offers an event pass called the 2012 Winter Fiesta Adventure Pass. The passes are $10 each and provide discounts to all the Winter Fiesta events. The Winter Fiesta includes multiple events, with music from seven different bands -- one of which is a Grammy Award winner -- a comedy show, a movie screening about extreme skiing, a brew festival featuring more than 20 New Mexico breweries, an "Amazing Race"-style scavenger hunt on snowshoes in the mountains above Santa Fe, a salsa dance competition featuring local Latin dance band Nosotros, a reggae music dance party, free horseback rides for Winter Fiesta Adventure Pass holders, an art show, a Santa Fe Valentine race and, finally, a Super Bowl party and concert. All featured events take place at the Santa Fe Farmers Market Pavilion. At this year's Santa Fe Winter Fiesta there is something fun for everyone.
Between Jan. 27 and Feb. 4, Santa Fe Winter Fiesta hotels will offer discounts on hotel stays, spa packages, dining and other services and items. Participating hotels include the following: Inn of the Governors/Del Charro Saloon, Encantado - An Augerge Resort, Eldorado Hotel & Spa, Water Street Inn, Inn and Spa at Loretto, Hotel Santa Fe - The Hacienda and Spa, Courtyard by Marriott, La Posada De Santa Fe Resort, Luxx Hotel, Santa Fe Sage Inn, Bishop's Lodge Ranch Resort & Spa, Inn at Santa Fe and La Fonda De Santa Fe. Visit the following Getaway Host link to book your stay to save money while attending the Santa Fe Winter Fiesta event.
If you're a skier with a Santa Fe Winter Fiesta Adventure Pass this is your lucky week. Winter Fiesta Adventure Pass holders will receive a $10 discount on daily ski lift tickets from Ski Santa Fe, during the Santa Fe Winter Fiesta. Simply present your Winter Fiesta Adventure Pass at the Ski Santa Fe lift ticket window to receive your $10 discount when buying your lift ticket.
"The Santa Fe Winter Fiesta is a great way to experience the music, food and culture of Santa Fe," explained Scott Hutton of SantaFe.com, which produces the Santa Fe Winter Fiesta in association with the City of Santa Fe. "Between all of the great bands we have lined up for the event, the brew festival, and all the other fun activities, Winter Fiesta is a great Santa Fe destination, for both locals and travelers alike. Here at SantaFe.com we are very happy to help put on this fun winter event."
The Santa Fe Winter Fiesta is co-sponsored by The Santa Fe Reporter, Chalmers Capitol Ford Lincoln Mercury, The Agave Lounge at the Eldorado Hotel, Heineken, and the Coca-Cola Bottling Company. The event is also brought in part by the Museum of New Mexico Foundation, Century Bank and Sierra Santa Fe Buick GMC. Participating sponsors of the event are local Santa Fe businesses Santa Fe Mountain Sports, The Five and Dime General Store and La Fonda de Santa Fe.
For more details or to purchase tickets to the Santa Fe Winter Fiesta visit http://www.santafe.com/winterfiesta/.
About SantaFe.com
SantaFe.com provides Santa Fe and visitors to Santa Fe alike the most current interactive platform for events, music, arts, business, dining and lifestyle. SantaFe.com is a division of Hutton Broadcasting, located at 2502 C. Camino Entrada, Santa Fe, NM 87507.
Contact Information:
Scott Hutton
SantaFe.com/Hutton Broadcasting
http://www.santafe.com
(505) 471-1067 (Media inquiries only, please)
###