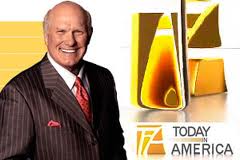 Today in America, Terry Bradshaw, and the TV show's crew are proud to highlight this community in the Great White North!
Coral Springs, FL (PRWEB) January 10, 2012
For its latest installment in their "Hidden Gems" series, Today in America TV with Terry Bradshaw travels to Elgin County Canada along Lake Erie's north shore and discovers the town that goes by the moniker "Progressive By Nature."
"Its small town ambiance with a big city mentality that made this destination quite attractive for television," says Doug Scott, executive producer of Today in America with Terry Bradshaw. "And it's becoming a hub for new technology and green power sectors which made it even more appetizing so we could show viewers that a great lifestyle and business opportunities do co-exist!"
"It's nice when people know your name around town," says resident Mary Parker. "It's bustling yet cozy here. My neighbors care and that goes a long way in today's world."
To view the segment in its entirety go to http://www.youtube.com/watch?v=bbgUAvuWJKM.
Today in America, Terry Bradshaw and the entire crew are pleased to highlight this part of the Great White North. Today in America with Terry Bradshaw is a unique television experience. The show reviews a number of fascinating communities, businesses, and individuals both at home in the USA, in Canada, and across the world.
For more information on Today in America with Terry Bradshaw and to see Today in America samples visit the official website at todayinamericatv.com or like us on facebook at facebookd.com/todayinamericatv.
###