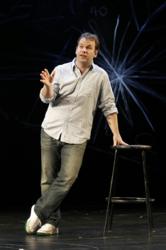 "After a preview show in Montreal a man even proposed to his girlfriend in my presence. Everyone was crying, and I felt like crying because I felt like the man had missed the point I was trying to make in the show."
-Mike Birbiglia
New York, NY (PRWEB) January 11, 2012
Comedian Mike Birbiglia is lining up some painfully awkward dates in theatres and performing arts centers across the United States. The comedian and best-selling author is preparing to kick off a nationwide tour of his award-winning Off-Broadway show, My Girlfriend's Boyfriend, on January 20th in Salt Lake City, Utah. Tickets are on sale now for Birbiglia's tour in 22 cities, with more dates being added (full tour schedule at the end of this release).
In Mike Birbiglia's My Girlfriend's Boyfriend, Mike shares a lifetime of romantic blunders and miscues that most adults would spend a lifetime trying to forget. On this painfully honest journey, Mike struggles to find reason in an area where it may be impossible to find--love.
"I loved performing a four-month run in New York," said Birbiglia, "but I'm even more excited to take the show on a series of one-night stands in cities around the country, because anything can happen in a show like this. After a preview show in Montreal a man even proposed to his girlfriend in my presence. Everyone was crying, and I felt like crying because I felt like the man had missed the point I was trying to make in the show."
 
For tour info and links to purchase tickets, log on to http://www.birbigs.com/tourdates. Tickets for Mike Birbiglia's My Girlfriend's Boyfriend are on sale now.
Mike Birbiglia initially performed My Girlfriend's Boyfriend for 15 weeks at the Barrow Street Theatre, from March 18, 2011 to June 25th, 2011. The show won the Lucille Lortel Award for Outstanding Solo Performance; it was also nominated for a Drama Desk Award and an Outer Critics Circle Award.
Mike Birbiglia's My Girlfriend's Boyfriend tour marks Birbiglia's second tour taking place exclusively in theatres and performing arts centers. In 2009 Mike Birbiglia headlined "Comedy Central Live Starring Mike Birbiglia: I'm In The Future Also" tour and performed in 22 theatres across the country.
BIO
Mike Birbiglia is a comedian, writer, and actor best known for his award-winning off-Broadway hits Sleepwalk with Me (2008), and My Girlfriend's Boyfriend (2011). The New York Times called My Girlfriend's Boyfriend "ridiculously enjoyable." It was named a critic's pick by The New York Times, Time Out New York, and New York Magazine. In recent years Birbiglia has emerged as standup comedy's preeminent storyteller. He has starred in three Comedy Central Specials, released two hit CDs for Comedy Central Records, Two Drink Mike and My Secret Public Journal Live, which was named one of the "Best Comedy Albums of the Decade" by The Onion AV Club. Birbiglia has also made regular appearances on Public Radio International's This American Life. In 2011, Birbiglia directed and starred in a feature film adaptation of Sleepwalk With Me, which premieres January 23rd, 2012 at the Sundance Film Festival.
"MIKE BIRBIGLIA'S MY GIRLFRIEND'S BOYFRIEND" TOUR DATES
DATE CITY VENUE
January 20, 2012 Salt Lake City, UT Kingsbury Hall
February 2, 2012 Greenville, SC The Peace Center
February 3, 2012 Durham, NC Carolina Theatre
February 4, 2012 Louisville, KY The Brown Theatre
February 13, 2012 Minneapolis, MN Guthrie Theater
February 18, 2012 Kalamazoo, MI State Theatre
February 19, 2012 East Lansing, MI Cobb Great Hall
March 2, 2012 Green Bay, WI Meyer Theatre
March 8, 2012 Wilmington, DE Grand Opera House
March 9, 2012 York, PA Strand-Capitol Performing Arts Center
March 10, 2012 Morristown, NJ Mayo Performing Arts Center
March 11, 2012 Red Bank, NJ Count Basie Theatre
March 22, 2012 Idaho Falls, ID Colonial Theatre
March 23, 2012 Boise, ID Egyptian Theatre
April 20, 2012 Santa Rosa, CA Wells Fargo Center for the Arts
April 22, 2012 Arcata, CA Humboldt State Univ. CenterArts
April 26, 2012 Effingham, IL Effingham Performance Center
April 27, 2012 Wabash, IN Honeywell Center
April 28, 2012 Indianapolis, IN Clowes Memorial Hall
April 29, 2012 Cleveland, OH Playhouse Square Center
May 4, 2012 Hartford, CT The Bushnell - Belding Theater
May 5, 2012 Northampton, MA Calvin Theater
###