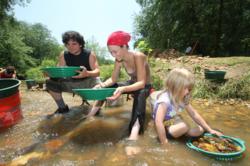 They don't understand that if we do away with all our mining rights that it's going to be done someplace else and we're going to be a third-rate country one of these days, folks — George "Buzzard" Massie
Temecula, Calif. (PRWEB) January 11, 2012
With the price of gold spiking to record highs on the international stock markets in recent months, experts are predicting that it could surpass $2,800 an ounce within the next year, says the Gold Prospectors Association of America. Gold prices hit a record high of more than $1,900 an ounce in late 2011 and have more than doubled since 2007.
GPAA President Brandon Johnson said annual memberships to the GPAA have shown substantial growth since 2007.
"Not only is this exciting for the Gold Prospectors Association of America and GPAA members, but it has led to more interest in prospecting and attention to the protection of property rights on public lands," Johnson said.
As Executive Producer of the GPAA's popular TV shows, "Gold Fever" and "Alaskan" on the Outdoor Channel, Johnson said gold prices have resulted in increased interest and viewership.
"During this year's Alaska Gold Expedition, the GPAA Productions department set out to capture the second season of "Alaskan" to premiere on Outdoor Channel Saturday, Jan. 14 at 1 p.m. ET. While the first season highlighted "An Unforgettable Experience," the second season will tell the story of "A Modern Day Gold Rush." In doing so, we invested a large amount of time comparing today's prospecting climate to that of the original Klondike Gold Rush of 1897," Johnson said.
More people are learning about the history of the gold rush eras in California and Alaska. They are getting off the couch and heading outdoors to experience gold prospecting for themselves — whether they are suction dredging, highbanking, sluicing, drywashing, metal detecting or panning for gold, he said.
"Spiking gold prices are sometimes the deciding factor to turn off the TV and actually go gold prospecting to experience it for yourself. A quarter-ounce or pennyweight of gold is worth a lot more now than it used to be," Johnson said.
"Prospecting isn't necessarily all about "having" the gold. It's as much about finding it," he said, adding that for many members the greatest thrill is enjoying the outdoors with family and friends.
"Today, the Gold Prospectors Association of America is reaching out and touching more people than it has since I have been involved, or at least since I can remember. I like to think this is the result of harder work on the part of all those involved in the industry. Many people believe it to be the result of the rising price of gold," he said.
Johnson admits he was skeptical about the market speculation and rumors of astronomical gold prices when they first surfaced in 2007, but said he is becoming more of a believer. While he remains, "cautiously optimistic", he said the same experts who predicted gold prices would skyrocket three years ago, are now saying there's no reason why they won't continue to climb.
Not surprisingly, miners tend to be secretive about their gold finds, but Johnson said more prospectors are emptying their vials and pokes these days — some to cash in on the high prices and others out of necessity to help themselves or family members get through tough economic times, he said.
"It's usually hard to get exact counts from a miner about how much gold they actually have. But now, you are seeing people selling more of the large nuggets," Johnson said.
"I can tell you those who are out there prospecting and know how to find gold are benefiting enormously from the rising prices. They are pulling in five times what they were selling for when they first got involved. I am talking about the small to mid-size commercial prospectors out there who have been in the industry for the last five to 30 or more years and have seen the prices of gold rise and fall — the guys who made a living mining for gold," Johnson said.
Small-scale prospectors have also benefited enormously from the rise in prices. In fact, many GPAA and Lost Dutchman's Mining Association members who attended the GPAA's Cripple River Camp near Nome, Alaska last summer, found enough gold to more than pay for their trip, Johnson said.
"We finished a phenomenal season. Gold prices have had a strong, positive effect on our organization, the industry and on the small-scale prospector," he said.
"The Stampeders, just like the '49ers of the California Gold Rush and even today's GPAA members and other gold prospectors are contributing to economic growth in troubled times."
In a recent TV campaign featuring my grandfather, George "Buzzard" Massie, he says: 'You bring gold out of the ground, you add wealth to this country — from nothing,' " Johnson said.
"Job opportunities in this country over the last 20 years have been concentrated in the entertainment, service, technology and business management industries. What happens when we have fewer viewers, patrons, customers or buyers for these businesses and need fewer managers to supervise? The answer is rising unemployment and a workforce without the necessary skills to extract the rich resources our country and its citizens have worked so hard to defend," Johnson said.
"Rising gold prices have done much for those whose dedication and loyalty to the industry over the years now begins to pay off, but the greatest benefit to our local economies, average citizens, and the economic future of our country is yet to be seen," he said.
"My grandfather said, 'Hard work is good for you because it brings reason and balance to your life. We need more people producing in this country, more people working and sweating and getting things done. If you want to get out there and work hard and do the right thing, you can make it in these United States.'," Johnson said.
In his TV show that aired in the 1980s, Massie, who founded the GPAA and Outdoor Channel, encouraged Americans to become members of the GPAA, stand up for the right of Americans to prospect on public lands and to fight against overbearing government and radical environmentalists who want to take away those same rights.
In the GPAA's Land and Country advertising campaign that has been airing on Outdoor Channel, Massie says: "They don't understand that if we do away with all our mining rights that it's going to be done someplace else and we're going to be a third-rate country one of these days, folks."
"Even as far back as the '80s, my grandfather, who died in 1993, realized the repercussions of stripping the public's right to prospect on public lands," Johnson said.
Gold prospectors spur economic growth
Fifth Buzzard commercial now airing on Outdoor Channel
For more information about gold prospecting, go to http://www.goldprospectors.org. Or, to check out the GPAA's 2012 Gold & Treasure Show schedule, visit http://www.GoldAndTreasureShow.com.
Visit the GPAA on Facebook at:
[http://www.facebook.com/GoldProspectors
http://www.facebook.com/GoldFeverTV
http://www.facebook/AlaskanTheSeries
For more information, call Gold Prospectors Association of America at (800) 551-9707.
###