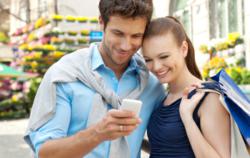 The Perfect New York Date is ideal as a first or second date because it breaks couples out of the awkward and forced "question and answer session" across a restaurant table.
New York, NY (PRWEB) January 11, 2012
As Valentine's Day approaches, couples are looking for a way to break out of the dating doldrums. Until now, they've had to rely on three basic date options: dinner, a movie, or dinner and a movie – not too exciting. Now, like a knight in shining armor, Stray Boots comes to the rescue with "The Perfect New York Date," a fun and unique cell phone-guided urban game that turns the streets of New York into a playground where couples can explore the romantic side of the city, while getting to know each other better.
Stray Boots' urban games have been compared to a "little Amazing Race," and "The Perfect New York Date" takes couples on an interactive adventure that's equal part scavenger hunt and walking tour with their cell phone leading the way. As part of the game, they're treated to challenges that include a bit of culture at a trendy art gallery in SoHo and an irresistible dose of "puppy love." They can sample tasty treats in the Village's cutest nooks and crannies, then show how "well versed" they are as they practice their poetry skills. From peaceful parks to amorous alleys, cozy caverns to beautiful bouquets, "The Perfect New York Date" shows couples just how sumptuous the Big Apple can be. By the time they get to a truly secret garden tucked away from the city's hustle and bustle, they'll be feeling the romance in the air.
"The Perfect New York Date" is one of 13 urban games Stray Boots offers in New York City, and is playable on any US phone by text message or smartphone web browser. Couples are guided with messages that include riddles, puzzles, photo ops and trivia questions as they explore the romantic streets of Greenwich Village and SoHo. Each challenge they complete earns them points and reveals fun facts about the area. The game is self-paced and flexible, so participants can start whenever is convenient and stop for snacks, drinks, or a little "alone time" along the way. The game takes between 3 to 4 hours to complete.
"The Perfect New York Date" is ideal as a first or second date because it breaks couples out of the awkward and forced "question and answer session" across a restaurant table. It's sure to impress any date as a creative, thoughtful and out-of-the-ordinary date idea. "The Perfect New York Date" is also great for couples who want to put a spark back in their relationship with a new kind of activity. And at a budget-friendly price of just $12 per ticket, "The Perfect NYC Date" delivers a delightful and entertaining date for less than the cost of a movie.
For those who are ready to take their relationships to a higher level, Stray Boots also announced "The Perfect New York Proposal," an unforgettable way to "pop the question." It's an original way to make the big moment very special and avoid the clichés of having the waiter trot out the ring in a glass of champagne or hiding it in a fortune cookie. "The Perfect New York Proposal," is the most unique and memorable way to ask any bride-to-be the big question. It works like this: the "proposer" and their sweetheart are treated to a fun-filled, cell phone-guided scavenger hunt through the streets of Greenwich Village and SoHo. They receive messages on their phone that take them to cool, romantic spots around the area, with puzzles, riddles and photo ops along the way. Stops include an art gallery, a chocolate shop, a bookstore to "practice your poetry," and a "secret garden" for some alone time, among many other sumptuous spots. But all of these are just a warm up to the big moment, when it's time to drop to bended knee as the bride-to-be discovers a very, very special message – "Will You Marry Me?" – in a picture-perfect setting. While we can't guarantee the response, we promise to deliver an unforgettable experience. "The Perfect New York Proposal" takes 3 to 4 hours to complete and is priced at $50 per ticket.
About Stray Boots Urban Games
Called a "Game Changer" by Fastcompany.com, Stray Boots was created to deliver the cure for the common tour. Stray Boots' interactive, cell phone-based urban games combine the fun of a scavenger hunt with the sights of a top-notch walking tour to challenge players as they see the city, learn interesting facts and have some fun along the way. Tourists and locals are giving Stray Boots' hunts rave reviews in Boston, Chicago, Las Vegas, Los Angeles, Nashville, New Orleans, New York, Philadelphia, Portland (Oregon), San Diego, San Francisco, Seattle, Washington, DC and London, England. Many more cities are coming soon. Stray Boots is the proud recipient of a TripAdvisor™ Certificate of Excellence. Stray Boots is one of only 10 companies recently selected from hundreds of applicants to participate in the Entrepreneurs Roundtable Accelerator program (http://www.eranyc.com) for disruptive, emerging New York tech companies. Stray Boots also offers private hunts for corporate team building and special events like birthday and bachelorette parties. For more information, visit http://www.strayboots.com.
Find us on Facebook - Follow us on Twitter
###