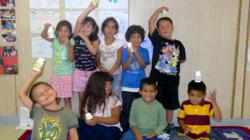 "We enroll children whose families live in poverty. Housing, food, transportation and utilities leave little, if any, money left. Many of our children would not be taking vitamins if not for this program."
Wendy Abney, Family Forum Head Start
Boise, ID (PRWEB) January 11, 2012
- Bodybuilding.com - Millions of Americans have officially kicked off their New Year Resolutions. What is at the top of their list? Living Healthier. For most Americans, this includes regular exercise, eating a well-balanced diet, and remembering to take their daily multivitamin. While many grumble as they deal with new healthy lifestyle changes, 12 million U.S. children are wishing they could be awarded this luxury.
Malnourished children are too tired to focus in school. They score lower on achievement tests, have low self-esteem and lack the hope and motivation to succeed to their full potential. The human body will do whatever it takes to stay alive. If it doesn't get the nutrients it needs, it rips nutrients from the body: calcium from bones, and protein from muscles (including vital organs).
There are many food-based charities out there hoping to help eradicate this problem, but there is never enough to provide a consistent, balanced diet to those in need. This is where vitamin supplementation can help. What impact can vitamins really have on an underprivileged child?

Vitamin supplementation improved IQ scores, by an average of 16 IQ points in 1,553 children
300 children in Arizona and California who took vitamins for 3 months improved academically at twice the rate of others
8,047 juvenile offenders reduced violence and anti-social behavior by 48%, improvements in conduct lasted at least one year
If parents can't afford to feed their children, how are they supposed to provide them with a daily multi-vitamin? Since the late 1990s, Nourish America has made it a priority to get vitamins into the hands of those in need. It works directly with thousands of volunteers across the nation at public schools, churches, shelters, YMCA and YWCA, along with many other community organizations.
With the increase in vitamin sales in January, Bodybuilding.com (world's largest online retailer of nutritional supplements) and NOW (award-winning natural supplements manufacturer) have partnered with Nourish America to provide a way for customers to give back this year. When a bottle of NOW Daily Vits Multi-Vitamins is purchased in January, a bottle of NOW Kid Vits Multi-Vitamins will automatically be given to one of those 12 million American children in desperate need of nutritional nourishment.
For more information on how you can help, please visit http://www.Bodybuilding.com/NourishAmerica
Bodybuilding.com and NOW customers have been long-time proponents of charitable causes, especially in regard to providing health to those in need. In 2011, Bodybuilding.com customers helped 57,352 children through Vitamin Angels, while NOW assisted the humanitarian efforts ongoing in Ghana by donating bottles of Vitamin A with Folic Acid. Vitamin A deficiency in third world countries is an epidemic that claims thousands of lives every year, especially children.
Bodybuilding.com offers more than 13,000 health and fitness supplements and accessories to help more than 11 million people every month achieve their health, fitness and appearance goals. The website contains more than 35,000 pages of free information, including more than 20,000 articles and videos, expert online trainers and new content added daily.
For more information: http://www.bodybuilding.com
Contact: Crystal Matthews
Email: crystal(at)bodybuilding(dot)com
Phone: 208.472.9311
###