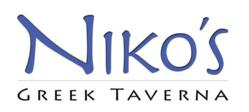 ..which allows the Kringases to return to Niko's Greek Taverna.
(PRWEB) January 12, 2012
White Plains, New York: Niko and George Kringas are pleased to announce that their partnership interest in Nemea Greek Taverna has been purchased by the remaining partners of Nemea Greek Taverna, which allows the Kringases to return to Niko's Greek Taverna.
Niko, his brother George, mother Voula, and father Peter will continue to bring guests of Niko's Taverna the real Greek experience of great company and excellent food made from the finest ingredients on earth.
Nick Kringas, a.k.a. Niko, is a partner at Niko's Taverna and will act as the head of marketing and business development. He graduated from Syracuse University with two majors, finance and entrepreneurship, and has a passion for internet marketing and search engine optimization. Niko lives in Westchester County, New York with his wife Stacey and their two children.
George Kringas, also a partner, will serve as Executive Chef of Niko's Greek Taverna. He originally learned how to cook from his mother, Voula Kringas, who also works at the restaurant, and recently graduated from the French Culinary Institute in Manhattan. George's most popular dishes are Niko's Ouzo Mussels and Braised Lamb Shank over Creamy Orzo.
Niko's Greek Taverna is located at 287 Central Avenue in White Plains, New York 10606. Services offered by the restaurant include dine in, take out, catering, delivery of orders totaling $100 or more, and Niko's can accomodate parties of up to 30 people. For reservations or to place an order, Niko's Greek Taverna can be reached at 914.686.6456.
###