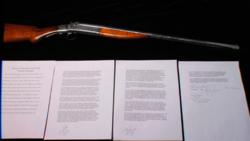 It's a great opportunity to own a piece of American history.
Ventura, California (PRWEB) January 17, 2012
California Auctioneers will sell the 1930's gangster relic on January 29th, 2012 online and live on premises in Ventura California to the highest bidder. "It's a great opportunity to own a piece of American history." said auctioneer Jewels Eubanks. The shotgun is currently owned by 2008 world poker tournament ladies champion Nancy Todd, also known as the Queen of Diamonds. Proceeds from the sale of the shotgun will be donated to the Hayden Scholarship Foundation.
California Auctioneers has documented the chain of custody, and procured a letter of authenticity from witness and Las Vegas legend Tex Whitson. "We were going to sell the shotgun previously, but waited to document the provenance." Ora Shannon who was George Kelly's mother in law and owner of the famous Wise County ranch house where Boss Shannon (her husband) and Machine Gun Kelly kept Charles Urschel when they kidnapped him.
Ora Shannon gave the shotgun to casino owner and Texas gambling legend Benny Binion. Binion was known for bringing Texas hospitality to Las Vegas at his casino, Binion's Horseshoe. The shotgun was kept in the vault at the Horseshoe, and shown to friends and patrons (including Mr. Whitson), until Binion gave the shotgun to Billy Bob Burnett, of Billy Bob's Texas, the biggest Honky Tonk in Texas, in 1985. Later the shotgun passed to Todd.
In the documentary included with the shotgun, Whitson recalls a trip with Binion to Texas where he drove down 'many a dirt road' and found the Shannon's farmhouse.
Also included in the auction is the "Benny Binion collection of gamblers guns, from the vault at the Horseshoe, confiscated from unruly gangsters, gamblers and patrons" When asked how Binion knew Machine Gun Kelly and the Shannon's Whitson replied, "anyone who gambled or drank in that part of Texas (Dallas) knew Benny Binion, and probably owed him money."
Additional auction highlights include estate items from the 9th Governor of Louisiana Andre Bienvenue Roman, in office 1831-1835 - including portraits by Jacques Guillaume Lucien Amans (1801-1888) . Also being offered is An important personal collection of pistols from pin stripe legend Von Dutch, well known for being the King of custom culture, he was also a gunsmith. Each has a custom Von Dutch handwritten tag.
###