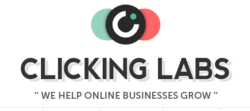 We think work should be comfortable, fun and creative.
Cebu, CEB (PRWEB) January 11, 2012
Clicking Labs is an established internet marketing company founded in 2010 known to be a world provider of web-based solutions in search marketing, social media traffic, social applications and conversion optimization. These solutions that the company has developed are catered specifically towards small to medium website owners to increase online visibility, credibility and sales conversions.
Since entering Philippine waters in 2011, the company has already made an impression in the job market on the island of Cebu. Clicking Labs markets itself as a company that strives to become a dynamic web 2.0 environment for its employees and peers. This company strives to embody an environment where smart work, dedication and attitude are valued above everything else. "A great environment to work will no longer be considered as "work". We want people who work for us to enjoy what they do and come to work smiling everyday!" says Managing Director, JP Bisson.
"We provide everyone in our team with comfortable workstations, career path coaching, and internal opportunities for their advancement. One of our company's objective is to become the best place to work in the Philippines by the end of 2012" adds Business Development – Managing Director, Jonathan Kennedy. The company is marking a milestone by its investment in a new office space in Crown Building located in Mabolo, Cebu City.
"We think work should be comfortable, fun and creative. We value stimulating work environments and authenticity in our team members. Creativity thrives in our workplace. We're always on the look-out in hiring creative, talented and the best individuals out there. We would be more than happy to have them join our family" says Head Designer, Diana Quartin.
Clicking Labs is devoted to creating affordable, sometimes FREE, web tools and online marketing services for internet business owners to thrive online. Through countless hours of exploration and testing, their offerings have grown to over a dozen online marketing services, over approximately 20 websites. All of which, to help increase online visibility, quantify marketing spend and improve sales. Clicking Labs always strives to keep their clients informed about the best practices in online marketing, specifically in SEO, Social Media and Conversion Optimization.
To know more about Clicking Labs, visit their website at http://www.clickinglabs.com for their latest updates.
About Clicking Labs
Clicking Labs is a well established internet marketing company founded in 2010 by Jean-Patrick Bisson, Diana Quartin and Jonathan Kennedy. The company specializes in driving search marketing and social media traffic, social web app development and conversion optimization. Each product or service specifically helps small/medium website owners increase online visibility and improve online sales.
###