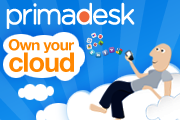 Las Vegas, Nevada. (PRWEB) January 11, 2012
Primadesk, Inc., provider of personal content management solutions, today announced launch of their flagship product after successful beta testing.
Primadesk is releasing an Internet and mobile application that provides users with centralized access to their wide range of digital data dispersed across multiple online services. The Primadesk app brings order to online life, enabling users to search, manage and backup online accounts with one simple interface, no matter what device they use. Primadesk is the only service of its kind, incorporating the ability to drag and drop content (documents, emails, and photos) from one service provider to another.
Announcing Free, Pro and Mobile Versions
Primadesk Free Version provides search and manage capabilities across any 5 service providers. Pro Version also includes the ability to backup personal online content, by folders or albums or the entire account. In addition, Pro Version provides unlimited access to more than 25 online services. Primadesk is currently developing several new features for Pro Version, including single sign on to all other online applications regularly accessed by users. Stay tuned.
Primadesk Mobile Version provides users the ability to view all recent content from online accounts on their iOS or Android devices. Users can also search and view all their photos and documents in one place. Mobile Version puts users' cloud data right at their fingertips, so they can easily copy content from one service to another on the go.
Own Your Cloud
Microsoft Research estimates that the average Web user has approximately 25 online accounts.
Moreover, people are left adrift in a sea of proprietary services, with each one requiring its own
login credentials and holding a different slice of online life, and without the ability to easily integrate views and seamlessly share data. Primadesk is a solution for organizing, viewing and interacting with this dispersed personal cloud content. With Primadesk, the consolidated Web experience travels with the user from device to device, connecting cloud services wherever the user might be.
"The rapid growth of Web‐access devices and cloud services has vastly increased the amount of data that is created and stored on the Web", said Srinivasa (Venky) Venkataraman, founder and CEO of Primadesk. "Primadesk not only makes it easier for users to access and manage that data with Pro Version, we also help them protect that data through automatic backup. No matter where your content is located, you run the risk of inadvertently losing it if you have only one copy in the cloud."
"Primadesk in an excellent complement to Sugarsync", said Laura Yecies, CEO of SugarSync. "With Primadesk, our users have the ability to easily copy content from their cloud services into our platform, making Sugarsync their de facto content store no matter where the content comes from." Primadesk is now listed on Sugarsync's App Directory.
"IDrive EVS provides a unique technology for encrypted and secure cloud storage. Partners like Primadesk add immense value to our platform", said Raghu Kulkarni, CEO of Pro Softnet Corp. " IDrive provides secure backup of your PC, Macs and mobile devices, and with Primadesk our users can also protect their cloud based content using our platform."
"When we launched the Startup Accelerator program just a year ago, we expected our seed investments to help place us at the forefront of industry trends. We are excited to see our first investment, Primadesk, make excellent progress in the personal cloud content management space. We expect them to make significant strides this year as they continue to get market traction and attract more investors." said John McIntyre, Managing Director of Citrix Startup Accelerator.
About Primadesk, Inc.
Primadesk makes online life easier to manage, enabling users to search, manage and backup
personal cloud data from anywhere, whether it is from a personal computer, tablet or
smartphone. Primadesk was founded in 2009 by two entrepreneurs who recognized the
growing need to make Internet‐based applications and online information secure, easier to
use and to interact with. For more information on Primadesk, please go to http://www.primadesk.com.
About Citrix Systems, Inc.
Citrix Systems, Inc. is a leading provider of virtual computing solutions that help people work and play from anywhere on any device. More than 250,000 enterprises rely on Citrix to create better ways for people, IT and business to work through virtual meetings, desktops and datacenters. Citrix virtualization, networking and cloud solutions deliver over 100 million corporate desktops and touch approximately 75 percent of Internet users each day. Citrix partners with over 10,000 companies in 100 countries. Annual revenue in 2010 was $1.87 billion. Learn more at http://www.citrix.com.
About SugarSync
SugarSync is a free service that helps you sync your life. With a simple download on your computers and mobile devices, you have access to all the Cloud has to offer. Launched in 2008 and based in San Mateo, CA, SugarSync currently has millions of users worldwide. Brands such as BestBuy, Lenovo, SanDisk, France Telecom-Orange, Korea Telecom and more have selected SugarSync as a partner to bring Cloud services to their customers. For more information, please visit http://www.SugarSync.com.
About Pro Softnet Corporation
Headquartered in Calabasas, CA, Pro Softnet is a privately held company specializing in cloud storage, online backup, remote access, compliance and related technologies serving the consumer, SMB, and Enterprise market segments. Core products include IDrive®, IDriveSync®, IBackup®, and RemotePC™. The company's popular IDrive online backup service currently has over 750,000 subscribers.
Press Contact:
Srinivasa Venkataraman
650.384.5841
Venky(at)primadesk(dot)com
# # #
Primadesk is a registered trademark of Primadesk Inc. Other company and product names may be trademarks of their respective owners.