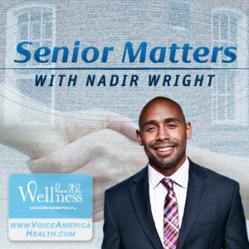 I view the show as an extension of the work I do
New York City, New York (PRWEB) January 12, 2012
Nadir H. Wright, MPH, President and Founder of Bright Days Home Care announces a new talk radio program airing on the VoiceAmerica network, Thursday mornings at 10am EST. The show "Senior Matters" is on the Health&Wellness of the VoiceAmerica network. The show premieres Thursday January 12.
Senior Matters aims to be the authority on matters relating to seniors. The focus of the show is to examine various issues and concerns for an aging population. The show will discuss issues ranging from long-term care insurance options, in-home care, moving to a facility or senior community, legal matters, healthy lifestyles, and emotional well-being. The show aims to empower listeners with information on a wide array of the issues that they may confront, while also highlighting the solutions. "We want to provide simple straightforward information to our listeners, demystifying the process of getting older," says Wright. The show seeks to tackle tough, taboo issues. "While the show is about serious matters, we deliver the information in a heartfelt and accessible manner" says Wright. "We want people to have an enjoyable and enriching experience with us."
Wright started Bright Days Home Care in 2011 because of his desire to help people. The agency provides companion care services to seniors in New York City. Based upon personal experiences he sought to improve upon the way home care is delivered. "I view the show as an extension of the work I do. I started my business because of what I heard and saw from friends and family. My show is no different."
"Senior Matters" airs live on Thursday at 7 AM Pacific / 9 AM Central / 10 AM Eastern on The VoiceAmerica Health&Wellness Channel. To access the show, log on at http://www.voiceamerica.com/channel/248/voiceamerica-health-and-wellness. All shows will be available in Nadir Wright's Content Library on The VoiceAmerica Health&Wellness Channel for on-demand and podcast download.
About Bright Days Home Care
Bright Days Home Care is the premier non-medical home care agency in New York City and surrounding areas, providing a wide range of in-home care services. Bright Days Home Care is a locally-owned and operated company and is passionate about serving seniors and those in need throughout the New York City area.
As a member of The Senior's Choice, the nation's largest network of independent private duty companies, our mission is to ensure a better quality of life for our elderly clients and their families by providing dependable and affordable senior care. We are passionate about our home care services and offer a personal touch that enriches the lives of those for whom we care.
Our caregivers share our passion for improving the lives of seniors. We provide them with training and carefully pair them with the right client based on his or her needs. We offer a no-obligation opportunity to assess your needs and discover how we can significantly improve your life and the life of your loved one. For more information, or to request a free assessment meeting, simply contact us at (855) 407-1555 or info(at)brightdayshomecare(dot)com
About VoiceAmerica/World Talk Radio, LLC:
World Talk Radio, LLC is the world leader in online media broadcasting and the largest producer and distributor of live internet based talk radio and TV, delivering over 1,000 hours of programming weekly on its VoiceAmerica™ Network (http://www.voiceamerica.com) and WorldTalk Radio Network (http://www.worldtalkradio.com) as well as live and on-demand video content on VoiceAmerica.TV (http://www.voiceamerica.tv). Featuring more than 200 hosts broadcasting to eight niche community based channels: its flagship VoiceAmerica™ Variety Channel, VoiceAmerica™ Health & Wellness Channel, VoiceAmerica™ Business Channel, VoiceAmerica Sports, 7th Wave Channel, The Green Living Channel, VoiceAmerica Kids Channel and World Talk Radio Variety Channel. VoiceAmerica™ TV offers targeted and exclusive video programming channels. World Talk Radio, LLC is one of the pioneers in internet broadcasting, producing and syndicating online audio and video, offering an innovative, effective and comprehensive digital broadcast platform. Digital Publishing through its 10 years of broadcast and media experience along with our seasoned staff of Executive Producers, Production and Host Services Group, World Talk Radio, LLC provides an internet radio and video platform for new, emerging and veteran media personalities to expand and monetize their business and brand in an online digital medium.
###