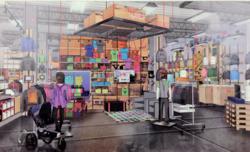 Madison Heights, Mich. (PRWEB) January 12, 2012
Moosejaw, the quirky outdoor retailer based in Detroit, has announced the grand opening date of March 3rd , 2012 for their 8th retail location in Natick, Mass. The Natick Collection location will be the first to embody Moosejaw's new retail concept and design.
"We wanted to do something totally unexpected from what you'd find in a typical outdoor store. When customers come in, they will want to explore and engage with their surroundings, the staff and the technology in the space," explains Bryan Lively, VP of Retail.
The first thing shoppers will find when they walk in is a chill hang out space with Fight Club playing 24/7. That part about Fight Club might not be true. There's also a disco-themed dressing room, table tennis, and a giant wall of "Moosejaw's Fave Custies". Moosejaw even knocked a huge hole in the wall between the store and the stock room to give a peak behind the curtain.
Moosejaw will use technology to create a seamless retail experience between how customers shop online and in brick and mortar stores. Armed with WiFi, iPads and mobile POS systems, the staff will not be tethered to a large checkout counter but instead will engage customers throughout the entire store, pulling-up online product reviews, checking inventory at other Moosejaw locations and completing transactions on the spot.
Moosejaw's unique brand and culture has been referred to as Moosejaw 'madness'. For many customers, the only way to experience the madness has been online. "Moosejaw customers have always been very vocal on Facebook and Twitter. They are always telling us that we need to open a Moosejaw store in Atlanta, Denver, or even Peoria. I always thought Peoria was a band," Eoin Comerford, SVP of Marketing and Technology.
Moosejaw's online growth rate has consistently doubled industry averages and always had success in their home markets. "We've found that customers who 'blur' the channels of retail at Moosejaw, that is shop online, in-store, get at us on Facebook, Twitter and mobile, are better qualified customers, shop more and are more loyal to Moosejaw than anyone else. Having a physical store in markets where we already have a strong following online will only create even more passionate groups of custies in these new locations, much like we have in Michigan and Chicago today," says Harvey Kanter, President and CEO.
Moosejaw is planning on opening more retail locations in the next 36 months using their new retail model concept. With three locations leased and two in negotiation, Moosejaw is also planning to open another store in Boulder, CO this coming May.
###