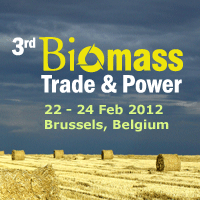 CMT's timely 3rd Biomass Trade and Power moves to Brussels on 23rd and 24th of February and spotlights on the Global Biomass Trade & Power generation growth and opportunities in regions like EU, UK, Asia & US
Brussels, Belgium (PRWEB) January 17, 2012
After 2 amazing years in Rotterdam, CMT's timely 3rd Biomass Trade and Power moves to Brussels on 23rd and 24th of February and spotlights on the Global Biomass trade & Power generation growth and opportunities in regions like EU, UK, Asia & US. The 2012 event features a Pre-Conference Site Visit to Rodenhuize Power Station, a 180MW biomass fuelled plant, located in Ghent, Belgium.
Spanning 1.5 day, and with the themes "Ensuring Operational Progress & Sustainable Growth Amidst Overcast Economy" and "Strategic Meeting of Stakeholders in the Global Biomass Supply & PowerGen", the event is slated to provide meaningful interactions and networking among key Biomass stakeholders from more than 30 countries. Speaking at the conference is an impressive array of expert including:

Mr. Shanmugam Pattu, Director of Cetex Energy Generation Co Pvt Ltd with his paper entitled Current Situation in India on Renewable biomass power Generation.
Edita Vagonyte, European Affairs Manager from European Biomass Association – AEBIOM providing insights on Efforts of the European Pellet Council & Progress on Industrial Adoption of ENplus Pellet Certification Scheme.
Dr. Marieke Harteveld, Consultant Bioenergy & Biobased Economy with Ecofys Netherlands BV addressing on the Latest on sustainability criteria for Solid Biomass & iLUC.
Mr. Robin Post van der Burg, Director, Business Development at Topell Energy BV presenting Torrefied Pellets Production Value Chain
Mr. Jonas Wilde of Vattenfall AB , Mr. Rob Prange, Managing Director with Dutch Energy Solutions and Rob Verheem, Deputy Director at NCEA analyzing Africa's Biomass Focus–On-Going Projects, Infrastructure, Investment & Trade
Mr. Johan Granath, Head of Bioenergy at Ekman & Co AB giving Updates on Vyborgskaya Cellulose Pellet Plant & Distinction Between Working with an Agent & Trader.
Mr. Michael Wild, Principal, Wild & Partners KG sharing the case study on Torrefied Biomass/Pellets – Finally it is Happening.
Mr. Patrick de Jamblinne, CEO, Tuzetka (2ZK) examining Bioenergy Development in Central Europe & Supply Chain of Biomass Pellets (Woody and Agricultural Residues),
In addition, updates on Global Growth in Biomass Based Power Generation & Trade/Demand in UK and Poland will be provided by Mairi Black of Drax Power Station and Mr. Piotr M. Nowak, Manager - Foreign Solid Fuels Trading Department Weglokoks S.A. respectively. Meanwhile Dr. Yves Ryckmans, the Chief Technology Officer Biomass at Electrabel - Laborelec will outline the Progress on Initiative Wood Pellets Buyers' Initiative on Sustainability & Specifications for Industrial Wood Pellets.
For more information and to register your team for the conference and site visit go to the official event page at http://www.cmtevents.com/aboutevent.aspx?ev=120208.
###