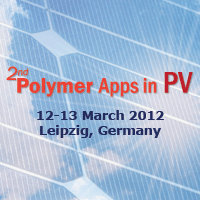 PV industry is seeing a meaningful shift towards technology compatible with polymers to enhance module efficiency. CMT 's upcoming conference 2nd Polymer Apps in PV in Leipzig delves into potential substitutes and innovations in used in the solar modules.
Leipzig, Germany (PRWEB) January 18, 2012
With "Balancing Scientific & Commercial Progress in Polymeric Material for Future Requirements" as central theme, 2012 Polymer Apps in PV conference is supported by panelists from Fraunhofer CSP addressing technical know-how on parameters of a photovoltaic module, reliability and durability, research and characterization of modules, components and materials plus behaviour of polymer-based materials that could achieve cost competitiveness without compromising performance.
Specific sessions by Fraunhofer - Center for Silicon Photovoltaics CSP include: Influence of Mechanical Properties of Encapsulants on the Stresses in PV modules presented by Dr.-Ing. Matthias Ebert, Group Leader (Module Reliability) & Team Leader (Module Characterization); A session on EVA Cross Linking During Manufacturing of Solar Modules will be presented by Dr. Stefan-H Schulze, Team Leader Polymer Materials; and Mr. Matthias Pander, Team Module Characterization reflects on Determination of process parameters and Evaluation of electrical and mechanical properties in his paper entitled Characterization of Conductive Adhesives for Solar Cell Interconnection.
2nd Polymer Apps in PV also features sessions by industry's most influential names including:

Prof.Dr. Karl Leo, Director, Institute for Applied Photophysics (IAPP) who recently won the German Future Prize of the Federal President for Technology and Innovation - one of the most prestigious awards for science and innovation in Germany for the project "Organic Electronics" . Prof Dr Leo will present a paper on Organic Photovoltaics - Status and Perspectives
Dr. Bernd Rothe, Research Scientist, Bayer MaterialScience AG addresses Edge protection and encapsulation and Light weight frame with integrated functionality in his presentation on Innovative Materials Solve Challenges for Building Integrated Photovoltaics.
Mr. Karlheinz Brust, Technical Director, KREMPEL GmbH Solar Materials elaborates on Market & Innovation of Polymeric Substitutes for PV Modules
In his presentation on Traceability of Polymeric Components of PV Modules, Dr . Nicolas Bogdanski, Research and Development, TUV Rheinland reflects on Counterfeiting and piracy of products / BOM (bill of materials) , Experiences in the field , Brand risk management , Analytical methods to assign products fingerprints
Prof. Reinhold W. Lang, Head of Institute of Polymeric Materials & Testing, University of Linz shares his presentation on Polymeric PV Encapsulation Materials - State of Technology and Perspectives from a Polymer Engineering and Science Viewpoint
Dr. Stan Levy, Chief Technology Officer, BioSolar Inc. illustrates on Advantages over conventional backsheets in his session on Biobased PV Backsheet
Current Trends in Backsheet Evolution will be discussed by Ms. Marina Temchenko, R&D Manager, Madico Inc
Ir. Francois Rummens, Quality Research & Technical Support Manager, Renolit Belgium NV delivers his paper on High Speed Automated Production of Durable PV modules: The Contribution of Cost Effective Adhesive Integrated and Weldable Backsheets
The rest of invited speaker panelists contributing at this Leipzig meet include Extrusion Dies Industries LLC, KraussMaffei Berstorff GmbH, Konarka Austria, Townsend Solutions, Rhodia Polyamide and more!
The venue of the conference Leipzig in Central Germany happens to be the world's leading PVs region, hence apt meeting venue for top tier industry professionals involved in polymeric and photovoltaic technologies value chain. Participants can expect to meet Specialty polymer/material companies, PV modules and component manufacturers, Researchers and test institutes and representatives from photovoltaic technologies value chain.
Registration is already open for those seeking to confirm their participation early. Register online or contact Ms. Grace at 65 63469147 for assistance.
# # #