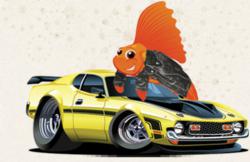 Music is one of the great uniters of man.
Indio, CA (PRWEB) January 11, 2012
With the announcement of the 2012 Coachella Valley Music and Arts Festival performer line-up on Monday, RoadFish.com released their survival tips for enjoying the Coachella festival.
Coachella, as the youngsters refer to it, is going to be held during two weekends this year, April 13-15 and April 20-22 in Indio, California. RoadFish felt knowing just a few helpful tips would assist in making sure attendee experiences were at their maximum. Most of RoadFish's tips discuss basic needs such as staying hydrated, dealing with the weather, and keeping clean.
RoadFish's editor stated, "Music is one of the great uniters of man. It is powerful and how wonderful would it be to be absolutely present to enjoy it. Providing some simple tips regarding basic survival needs when away from home can really help to focus someone on what is important. Groovin' that is! With all this talk about the Doomsday Clock we thought some positivity was needed."
Coachella's line up was released on Monday via Twitter. The line-up is now listed on the Coachella website. As of right now, the line-up has some big names such as Florence and the Machine, Dr Dre. and Snoop Dog, Artic Monkeys, The Black Keys, David Guetta, and many more. Tickets to Coachella will go on sale this Friday, January 13th, at 10:00am Pacific Standard Time.
RoadFish predicts the experiment of having the festival during two weekends with the same line-up will provide many people with an opportunity to see great artists at a great price.
About RoadFish.com
RoadFish.com is an online men's lifestyle and finance magazine targeted toward men in their 30's and 40's that have already attained a moderate level of success in life, and are striving toward more. It goes over current events of interest to this group, such things as the dating, personal finance, as well as ways to make more and save more money. It is a publication owned by Purpose Inc.
###