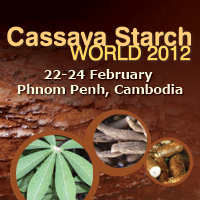 CMT's Cassava Starch World 2012 in Phnom Penh delivers latest updates on the crop's robust developments in Asia, it's potential for downstream value added applications and more!
Phnom Penh, Cambodia (PRWEB) January 17, 2012
Taking place on 22-24 Feb in Phnom Penh, Cassava Starch World 2012 organized by Centre for Management Technology delves into the theme of Finding Value Added Applications for Cassava and offers an exclusive site visit to TTY Agriculture Plant Development Co, a leading tapioca starch manufacturing company located in Kompong Cham province, that boasts four Tapioca starch, Natural Fertilizer, Animal Feed Factory, Biogas Power Plant Project operations.
Designed to provide participants with insights on the market potential of cassava as used in several agro-industrial products like cassava flour for food/bakery products & animal feed, in food processing, beverages and others, key topics in program agenda include:

Cassava Starch outlook - markets, economics and its competitiveness with other feedstocks in the starch game.
Downstream processing of Cassava into ethanol, sweeteners, fermentation products and how industry players use sugar & tapioca starch interchangeably.
Wastewater treatment and implementation of anaerobic process on cassava manufacturing facility.
The recent developments in improving the nutritional value of cassava , and new cassava varieties that can increase its competitiveness.
Among the invited speakers panel are industry majors like LMC International Ltd, Kasetsart University, Kimberly-Clark Corporation, ETH Zurich, CIAT (International Center for Tropical Agriculture), Carbon Partners Asiatica, Stratcon Singapore Pte Ltd, Guangxi Cassava Research Institute, Indian Council of Agriculture Research and many more.
Other highlights for the conference are the country focused sessions on Cambodia & Thailand. H.E Mr.Na Mardy of TTY Agriculture Plant Development Co will present on Cassava markets outlook & TTY's project expansion plans in Cambodia while Mr. Anuwat Ruthaiyanont, Managing Director, Northeastern Starch and CEO of the Thai Tapioca Starch Association shares his insights on Tapioca Technology, Supply & Demand Outlook After the Floods in Thailand. Also contributing is Mr. Warakit Tanburintip, Sales/ Logistics Manager from Double A Ethanol with his presentation on "Update on Double A – Cassava to Ethanol Project" reflecting on Project status and completion date and rebuilding after the floods.
To date the conference is already attracting a growing network of companies involved in Plantation, sugar and starch based feedstock, Agriculture/Agro Industrial Crops, Fermentation, Enzymes Suppliers, Companies that uses starch & starch derivatives - food, textiles, paper , pharmaceutical industries, Manufacturers and suppliers of Tapioca starch, Trading Cos, Venture Capitalists, Financial Analysts, Ethanol Producers, sugar plantations, Equipment & Technology suppliers.
Registration for this pioneer event is still open but with only limited places for the SITE VISIT remaining, interested delegates are urged immediately Register online at the official Cassava Starch World 2012 website.
###