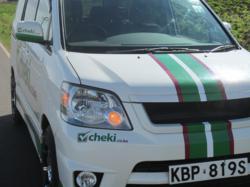 In early 2012, Kenya car buyers can enjoy discounts on 2004 imported cars from Japan
Nairobi, Kenya (PRWEB) January 13, 2012
After suffering 50% rises in 2011, leading Kenyan car sales website http://www.cheki.co.ke predicts that Kenyan car prices for consumers will ease in 2012.
Cheki operates Kenya's leading online car marketplace with over 98% of Kenyan car dealers represented and close to 100% of Kenya's cars for sale.
Analysing the Kenya used car price trends across the site, Cheki Managing Director Carey Eaton said "we are already seeing some short-term price falls for consumers in the Kenyan market in early 2012. We would expect the market to claw back about 50% of the price increases from last year over the next few months."
During 2011, a perfect storm of five key factors led to a 50% jump in Kenya used car prices during the year.
Firstly, large currency movements saw the US dollar move from KShs. 80/- to KShs. 110/- in 2011. By early 2012, the exchange rate had moved back closer to its long-term average after intervention by Kenya's Central Bank, which strengthened the shilling to its current rate of around 85 to the dollar. Kenyan consumers and car dealers are highly exposed to currency fluctuations given that over 85% of Kenyan car sales in 2011 involved imported cars.
In January 2011 and September 2011, the Kenya Revenue Authority (KRA) reflected these currency fluctuations in the CRSP list, which is the key list of car models from which all import duty is derived. Many cars on the list saw a dramatic increase in dutiable value in both January and September, which in turn was passed on to consumers in the form of car price increases. In effect, Kenyan consumers were paying twice for the movement in currency.
Oil price movements, insurance premium increases from Somali piracy and significant capacity constraints at Mombasa port led to an increase in shipping and import costs for car importers, all of which were passed on to Kenyan consumers. The Japanese earthquake and tsunami affected new car supply in Japan, which in turn reduced second hand car supply to Japanese auction houses, which in turn drove up base pricing of many popular cars destined for the Kenyan market And finally, a weak economic outlook in Europe drove down the purchasing of new cars in those markets, and increased the retention of used cars, which in turn reduced supply to export markets such as Kenya.
Of these five factors, two are not expected to re-occur in 2012 according to http://www.cheki.co.ke Managing Director Carey Eaton. In early 2012 "we are already seeing signs that the USD/KES strengthening is being passed on to consumers. Also the supply issues from the 2011 earthquake will not re-occur. As a result we expect price falls of 10-20% on some used cars for sale in Kenya and in fact we have already seen some during the last month."
"A key question is whether the KRA will reduce CRSP pricing and Kenya car import duty now that the shilling has strengthened. Our expectation is that this is unlikely to occur given the KRA's high targets for revenue collection and the cost of the election in 2012 driving demand for government revenue."
Another critical factor for Kenyan car buying in 2012 will be the expected general election. On the one hand, consumer and business demand for cars is likely to drop before the election, however it is also likely that supply will drop given the reluctance of dealers to risk capital before the election.
Eaton said "it is very hard to predict what effect the election will have on the currency during the final weeks of campaigning and after the results are called. So all in all, in late 2012, we may see price movements in cars overall but hard to predict from this point in time, and particularly as we also have not had a firm decision around the actual timing of the Kenyan election in 2012."
Asked when the best time to buy a car will be during 2012, Eaton said 'between January and March 2012 due to the currency strengthening, a good supply of reduced-price 2004 cars, and the recent arrival of five car carrying ships from Japan which will give Kenyan car buyers a good range of choice and healthy competition between car dealers and sales to sell KBR-registered cars – these factors will more likely be absent further into 2012 and while we won't see big 50% increases like we saw in 2011, the currency risk remains strong for buyers intending to delay buying a car in Kenya in 2012."
###