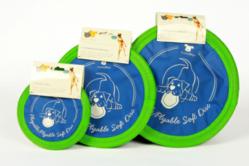 The Love2Pet soft bite discs for dogs are made from nylon fabric and safer than hard plastic discs because dogs can't chip their teeth when they bite down.
Tustin, CA (PRWEB) January 16, 2012
SWE, Inc. has introduced Love2Pet® "Playable/Plyable" soft bite discs, a family of soft bite play discs for dogs. These discs are made from nylon fabric and have a soft ring around them so they are safer for dogs to bite down on than harder plastic play discs. Playable/Plyable soft discs won't hurt dogs teeth or gums.
The discs are designed so they can be thrown through the air or can float on water. They are durable and won't tear even when dogs grab them with their teeth. Because the discs are made from soft fabric, they can be folded to fit easily in a dog owner's pocket. The Love2Pet "Playable, Plyable" soft discs even can be used as a water bowl while walking a dog or after exercise.
The Love2Pet "Playable/Plyable" soft bite disc for dogs comes in three sizes: small, 7" medium for $11.99, medium 11 10" for $17.99 and large, 12" for $21.99 each. A three-pack is available at a discount. Available online at http://www.shopwithease.com or at selected independent pet retailers.
###