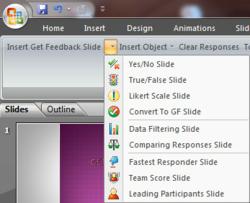 Using your software makes it possible to steer the conversation one way or another, depending on the results of the poll.
- S. Devon
Plymouth Meeting, PA (PRWEB) January 23, 2012
Get Feedback software allows the user to insert interactive audience response slides into any PowerPoint presentation and with the Meridia hardware, collect votes from an audience of any size in a matter of seconds.
The new audience polling software was enhanced with a number of new features like Covert Slide and 2D/3D graphs, Persistent Bar Alignment and simplified Auto-Save and Auto-Export features.
As well, the product now utilizes much more modern API (the hardware interface), which greatly enhances stability and increases performance of the voting system.
Get Feedback is being used by hundreds of Meridia clients ranging from hospitals, government agencies and corporate trainers to schools and traveling professionals who want to add interactivity and measurement of outcomes to their meetings.
Using a group polling system allows the speaker to gain insight on such important issues as generation gap, material retention, or pre- and post- evaluations, as well as simply add more excitement in form of a contest for points and prizes.
Since 1970, Meridia Audience Response has been providing innovative technology solutions for the meeting, training and entertainment industries. Combining the experience with the latest in web technology and radio frequency hardware, Meridia is now enabling audiences around the world to cast their vote and be part of the meeting, whether it involves training or interactive games.
###