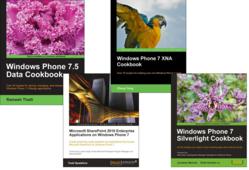 UK (PRWEB) January 12, 2012
Birmingham: Windows Phone 7 is now one of the hottest development platforms for Developers of mobile software and applications. Packt Publishing - one of the world's leading publishers of Microsoft focused technology books and eBooks - is pleased to promote four Windows Phone 7 books and eBooks for developers. Covering Windows Phone 7 integrations with Silverlight, SharePoint, XNA, and Data, developers will find valuable information designed to help them get to the heart of development quickly. All four books are available from Packt Publishing and other leading retailers in print, eBook, Kindle, and select library platforms.
Looking at the four books:
Windows Phone 7.5 Data Cookbook
This Windows Phone 7.5 Data Cookbook is comprised of a range of recipes to help developers apply data handling concepts. The book starts with data binding concepts at the UI layer and then shows the different ways of saving data locally and externally in databases. The book ends with a look at the popular MVVM software design pattern. Specific content includes: the exploration of different on device database options such as commercial Perst, open source SQLite, and Microsoft's SQL CE, scaling applications and work with WCF web services, and understanding REST and calling different social media services like Twitter and RSS Feeds.
Microsoft SharePoint 2010 Enterprise Applications on Windows Phone 7
The book is designed to allow developers to integrate WinPho with Microsoft SharePoint 2010 to create enterprise-ready websites and applications. The book starts by providing an overview of the out-of-the-box features of Windows Phone 7 for enterprises then moves on to an overview of the web browser that is included on the phone, Internet Explorer Mobile, covering the improvements found over the desktop version of Internet Explorer 7 and the limitations of the browser. The book then dives deep into topics such as Windows Phone 7 Web Development, building SharePoint Sites for Windows Phone 7, building SharePoint Pages for Windows Phone 7, and SharePoint Communities amongst others.
Windows Phone 7 Silverlight Cookbook
Packt's Windows Phone 7 Silverlight Cookbook starts with application design and architecture, then quickly moves on to more technical features and APIs that developers can implement to make apps stand out. The Camera API can be utilised to scan barcodes, location services can be used to pinpoint a phone's user's GPS coordinates, whilst the accelerometer can be used to provide feedback based on movement of the phone. All of these features can be provided in a slick user interface through the power of Silverlight. Animations, behaviors and XAML provide all readers need and more.
Windows Phone 7 XNA Cookbook
Windows Phone 7 XNA Cookbook is an excellent choice for game development on Windows Phone 7. This comprehensive cookbook covers all the essential areas of XNA game development for Windows Phone 7, such ways to control sensors, gestures, and typical kinds of cameras. It also contains recipes for sprite animation, texture rendering, and graphical user interface development that will give developers a powerful tool to work with 2D effects. After this the book moves onto more juicy stuff with recipes covering 3D graphic rendering and collision detection, and major ways to improve loading efficiency. It also covers work with Xbox live so that games can be taken global. Finally, no mobile game development book would be complete without a look at performance optimization to make games run faster. Windows Phone 7 XNA Cookbook will equip developers with the firepower to rock the game world.
More information about the above four titles, as well as the many other Microsoft books Packt develop and publish can be found on the Packt Website.
###