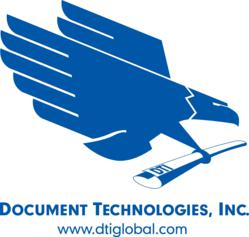 The introduction of our Knowledge Solutions platform marks another exciting new chapter for DTI," said DTI CEO John Davenport, Jr.
ATLANTA, GA (PRWEB) January 11, 2012
Document Technologies, Inc. (DTI), the nation's largest private independent provider of facilities management and eDiscovery solutions, announced today the establishment of a new business line, DTI Knowledge Solutions, expanding the company's services platform and the markets it serves. With the addition of this business, DTI moves further into the content arena often referred to as "Knowledge Process Outsourcing" (KPO). Clients will be served on-site and through newly established Knowledge Centers—the first of which will be located within the company's National Technology Center in Atlanta.
The launch of this new business line enhances DTI's ability to deliver strategic value to its clients. With offerings that include managed document review, word processing, proofreading, creative services, accounting services and research, DTI Knowledge Solutions will complement the company's existing facilities management (FM) and eDiscovery businesses.
Key benefits to DTI clients include:

DTI FM clients now have a one-stop shop for the entire document lifecycle, from research to creation to delivery;
DTI eDiscovery clients can now leverage DTI for the entire discovery lifecycle, from litigation readiness to managed document review, leveraging best-in-class review tools.
The expanded service profile enables DTI clients to reduce costs while gaining the flexibility to procure services on a transactional, shared host or dedicated captive basis, depending on their requirements or strategic agenda. As part of the launch of this new service line, DTI is also expanding the markets it serves to include financial institutions and professional services firms.
DTI Knowledge Solutions will be run by Chris Aronson and Jason Brennan, veterans of the KPO industry who bring to DTI more than 25 years of aggregate experience within the space.
"We are thrilled to have Chris and Jason join the DTI family. The introduction of our Knowledge Solutions platform marks another exciting new chapter for DTI by adding several important dimensions to our offering," said DTI CEO John Davenport, Jr. "Our clients have asked us to play a wider role in supporting their business operations, and these new services significantly enhance our enterprise proposition."
"Today, organizations face the unique challenge of balancing service excellence and innovation with the market imperatives of a more reduced and variable cost model," said Chris Aronson, President of DTI Knowledge Solutions. "Our Knowledge Solutions platform offers clients new management and financial options for the provision of these mission critical services."
The new Knowledge Solutions offering will be delivered as an integrated offering within the DTI FM and eDiscovery service lines.
###