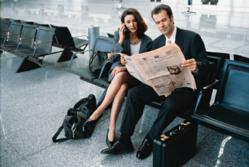 East Hartford, CT (PRWEB) January 16, 2012
Travel Insured International®, the leading privately owned travel insurance provider, has launched a new travel insurance option for the corporate travel market. The new Corporate Travel Protector offers emergency medical, medical evacuation and travel delay benefits at a reduced cost relative to plans that include trip cancellation. This plan is designed so that even if the corporate travel manager does not choose to purchase for their entire company, that the individual traveler can still purchase it as a lower-cost option. Director of Sales and Industry Relations Isaac Cymrot explains, "The overwhelming feedback we received was, as nice as a trip cancellation benefit would be, ultimately it's not the most critical type of coverage for companies. Our corporate travel partners asked us to focus on emergency medical and medical evacuation benefits and we felt travel delay is just as important for a corporate traveler."
This plan was designed in conjunction with feedback from many leading corporate travel partners. "There has been increased awareness in the marketplace for benefits not necessarily provided by a traditional travel insurance product" states Brent Blake, President of Acendas (Formerly All About Travel) in Mission, KS. Blake continues, "Being able to provide a product that supplements an employee's medical coverage internationally and providing a financial benefit in the event a traveler needs an additional night hotel in Europe after another volcano grounds flights, is something our corporate travel managers are interested in. They see the value in purchasing this type of benefit for all their travelers."
In addition, Travel Insured has hired industry veteran, Amanda Kurek, to spearhead the sale of this plan to corporate travel management companies. Kurek adds, "I'm excited for this opportunity and have always held a belief that the corporate travel market is in need of the right kind of insurance product. This is an inexpensive option perfect for the small to mid-size company looking to protect their employees while traveling". She also states, "When an agency includes this program in their business model, it adds value for their client while increasing the agency's bottom line".
The Corporate Travel Protector is only available for sale through a corporate travel agency that has an active account with Travel Insured and not available for purchase by the general public. Cymrot notes, "Our philosophy has always been that the experts who sell travel know what is best for their clients. It has worked well for us on the leisure travel side, so we incorporated that same philosophy with corporate travel."
Amy Boche, Co-President of Blue Ribbon Business Travel in Minneapolis, MN sees the value in that partnership with the travel industry, "I can honestly say I feel good about doing business with Travel Insured. The relationship keeps growing and the products they offer do as well. We have been looking to fill a need with our corporate clients and are excited that Travel Insured has created this product, it has already generated a lot of interest."
To learn more about the Corporate Travel Protector, contact Amanda Kurek for more information.
About Travel Insured International®
Travel Insured International®, based in E. Hartford, CT, was founded in 1994 by the foresight of insurance industry executive Peter Gehris when he acquired the travel protection division of the Travelers Insurance Company. Coverage is underwritten by Arch Insurance Company (a Missouri corporation, NAIC #11150) with executive offices located in Jersey City, NJ. Arch Insurance is rated A ("Excellent") for financial strength by the insurance rating service A.M. Best. Not all insurance products or coverage is available in all jurisdictions. Coverage is subject to actual policy language.
Travel Insured International®
52-S Oakland Ave.
E. Hartford, CT 06128-0568
http://www.travelinsured.com
###