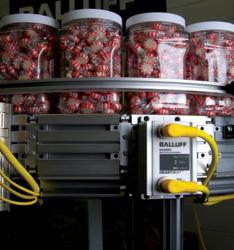 These new machine mount power supplies allow operators to easily review the status of power, while also reducing space inside their controls cabinet.
Florence, KY (PRWEB) January 12, 2012
Every machine builder is looking for ways to reduce the total cost of their machine while improving performance; and every end user is looking for ways to improve uptime and reduce operating costs. Power supplies can take up a substantial space in crowded controls cabinets. With the use of distributed I/O, block I/O and remote I/O becoming more prevalent, the need for ample power on the machine has also increased. But most power supplies in the market today give no feedback on their long term health. A faulty or dying power supply can cause maintenance crews hours of precious production time in troubleshooting and repair.
The introduction of Balluff's IP67 intelligent power supplies with Heartbeat™ technology allows these maintenance crews to get reliable feedback on the real time and long term status of the supply and be able to predict the replacement and maintenance cycle of the supply.
Benefits of Balluff's IP67 Intelligent Power Supplies:

Highly energy efficient (>93% efficiency)
Electrically durable (power boot 150% for 4 seconds)
Long lasting (minimum service life of 15 years)
Mechanically Durable (IP67 rated, vibration and shock resistant)
Click here for more information on Balluff's IP67 Power Supplies.
Editors: To download the high resolution press images, click here
Balluff Inc., the U.S. subsidiary of Balluff GmbH, Neuhausen, Germany, is a leading manufacturer of a wide range of inductive, photoelectric, vision, capacitive and magnetic sensors as well as linear position transducers, RFID systems, and networking products. Balluff products for OEM and factory floor solutions are used to control, regulate, automate, assemble, position, and monitor manufacturing, assembly, and packaging sequences for industries including: metalworking, automotive, plastics, material handling, wood processing, aerospace, alternative energy, medical, electrical, and electronics.
Editors: please contact Kelly Panko at 1-800-543-8390 for clarifications and additional information e-mail [email protected]
Direct reader service inquiries to: Kelly Panko, Balluff Inc, 8125 Holton Drive, Florence, KY, Phone 1-800-543-8390, or http://www.balluff.com
In Canada only, contact Norman J. Clarke, President, Balluff Canada, 2840 Argentia Road, Unit # 2, Mississauga, ON L5N 8G4, Phone 1-800-927-9654 or Tel: 905-816-1494, 905-816-1411, E-mail: balluff.canada(at)balluff(dot)ca
# # #