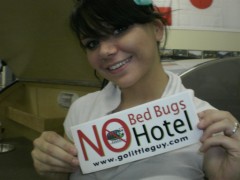 No Bed Bugs in Teardrop Camper Trailers
Massillon, OH (PRWEB) January 11, 2012
Little Guy Worldwide owner Joe Kicos shows off his "No Bed Bugs" bumper sticker in the Little Guy Worldwide teardrop camper trailer showroom as he explains one of the reasons why these tiny campers have become so popular with the company's customers. "Our customers often report that one of the reasons that they buy a Little Guy teardrop trailer, explains Mr. Kicos, "is that they are afraid of staying in hotels and motels for fear of bed bugs, dirty linens, and raucous and discourteous neighbors. We had these bumper stickers designed about a year ago more-or-less on a whim, but then we realized that many of our customers really are going to extremes to avoid bed bugs and other hotel hazards."
Representatives of the company had a first hand brush with such hazards recently while attending the RVIA's 49th National RV Trade Show, held the end of November at the Kentucky Exposition Center in Louisville, KY. "Several of our staff discovered upon checking-in at a local hotel that their room was infested by bed bugs," says Chief Operating Officer Chris Baum. "They literally had to change hotels to avoid the risk of bringing the infestation back home with them."
According to Michael Potter, Extension Entomologist with the University of Kentucky College of Agriculture, "The incidence of bed bugs in the United States is increasing to the point where vigilance by all is a prudent practice. Familiarity can help to avoid infestation, or at least prompt earlier intervention by a professional. Concerned travelers may want to get in the habit of checking their bed for signs of bed bugs, a common practice in the past. This would entail examining the bed sheets and upper and lower seams of the mattress and box spring, especially along the head of the bed. Some professionals also suggest removal and examination behind the headboard, a frequent hiding place for the bugs in hotel rooms. Headboards are heavy and cumbersome, however, and untrained persons should not attempt removal themselves. If bed bugs are discovered, travelers can request another room, preferably in another area of the building. Vigilant travelers may also want to elevate suitcases off the floor on a luggage stand, tabletop or other hard surface. Should travelers experience itchy welts suggestive of bed bug bites during their stay, it would be prudent upon returning home (before unpacking) to place all clothing in disposable plastic bags and directly into the washer and/or dryer. Inspecting or vacuuming luggage upon arrival home is less useful since it's hard to spot bed bugs inside a suitcase. The suitcase itself can either be treated or discarded."
Little Guy Teardrop Trailer owners have come to the conclusion that their time traveling should be spent enjoying themselves and not inspecting their hotel rooms for these little bloodsucking creatures. Given the relative affordability of teardrop trailers, many travelers are fusing their love of the outdoors with their desire to get out and see the country. Little Guy teardrop camper trailers allow them to do this on a budget, with these small recreational vehicles starting at around $5,000. Teardrops are also reported to have a minimal impact on gas mileage, which many of the company's customers see as a bonus.
###