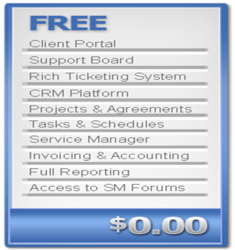 Shockey Monkey Reloaded is a free technology business automation platform with over 20 technology vendor integration partners that enables solution providers and MSPs to grow their businesses for free.
Orlando, Florida (PRWEB) January 12, 2012
Shockey Monkey Inc. announces the release of V 2.0, Shockey Monkey Reloaded. Shockey Monkey Reloaded is the first major upgrade to the free IT business management platform, with a new user interface that was designed from the ground up to be Free, Friendly, and Flexible.
FREE
Shockey Monkey was launched in August 2010 with the goal of providing a simple and efficient tool to help solution providers and MSPs manage their business operations and customer service. The solution initially included a brandable web portal, support board, customer relationship management, project management, billing and accounting, service scheduling, inventory and service provisioning management. While most of Shockey Monkey was free initially, some of the more advanced features required a Pro subscription – something that Shockey Monkey Reloaded has eliminated entirely. All clients have been upgraded to Reloaded portals and can begin taking advantage of the full feature set at no cost. Shockey Monkey Reloaded delivers a wealth of valuable tools for any IT business, including our new client Chat feature, Windows32 Desktop client, applications for iPhone and Android and a suite of HR functionality for greater organizational efficiency and communication.
FRIENDLY
Shockey Monkey Reloaded's most important benefit is its integration partnerships with leading industry vendors including n-Able, CentraStage, Level Platforms, Quotewerks, Kaseya, GFI Max, Intronis, Labtech and Intuit Quickbooks. Third party applications and services play a huge part in delivery of technology services today so a smooth integration is critical. Shockey Monkey features a true open API available at http://www.shockeymonkey.com/api without the terms, contracts and restrictions that are common in the PSA industry. By giving both users and third-party developers unrestricted access to the platform, Shockey Monkey becomes a natural layer of functionality to give clients a better process-oriented view of service operations.
FLEXIBLE
Shockey Monkey's open platform has already attracted some major integrators and sponsors. It's clear that it will be the business management platform choice of startups and IT companies looking to reduce cost and complexity. With all the features included free of charge (for single and multiple user solution providers) the hope is that everyone will try Shockey Monkey. For those organizations that need more advanced support and assistance, Pro subscriptions are still available offering phone, web and email technical support.
Shockey Monkey is a sponsored web application, and it gives technology vendors access to the type of emerging solution providers that manage more and more end user technology every day. With the singular purpose of serving end users' needs, Shockey Monkey is both the platform that solution providers and MSPs need to use and the one that vendors want to sponsor, because process-oriented companies tend to be more stable and accountable, and grow faster overall.
Technology vendors can sponsor Shockey Monkey in numerous ways and even launch technology licensing alliances where the full functionality is embedded into a third party product under a completely white-labeled experience.
It's easy to see why over 7,000 IT Solution Providers have chosen Shockey Monkey already, and we're just getting started. To learn more about Shockey Monkey please visit http://www.ShockeyMonkey.com
###