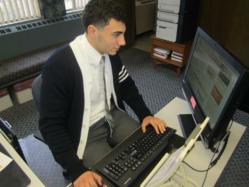 St. Joseph-by-the-Sea is a leader by being the first to implement such technology, and I am hopeful that we will soon see others follow suit.
Staten Island, New York (PRWEB) January 12, 2012
St. Joseph by-the-Sea High School announced that beginning in February it will be the first Catholic High School on Staten Island to implement online learning technology for its students through Blackboard Learn™ Release 9.1, the company's flagship learning management system. The service is currently used by top colleges in the nation as a means of online interaction between teachers and students, collaborative learning, and on-line courses.
Congressman Michael Grimm and District Attorney Daniel Donovan, have already signed on to teach online elective courses to Sea seniors next fall.
"I applaud St. Joseph-by-the-Sea for its forward thinking initiative to participate in a program that will better prepare Staten Island's youth for college," said Congressman Michael Grimm. "It is clear that they realize that success within the university setting begins by having the necessary tools and technology available while in high school. St. Joseph-by-the-Sea is a leader by being the first to implement such technology, and I am hopeful that we will soon see others follow suit."
Staten Island District Attorney Daniel M. Donovan Jr. said, "I am happy to participate in this new educational initiative at St. Joseph by-the-Sea by offering some of the knowledge I've gained in nearly 20 years of public service." He continued, "I think these innovative classes will not only give these students an academic advantage in the highly competitive college admissions process, but hopefully it will teach them how they can apply their education and skills to future employment."
Students will be able to retrieve and complete assignments online, and learn through podcasts, discussion boards, online videos, and other materials provided by textbook companies. The platform also enables students to interact in a controlled virtual learning environment and complete tasks collaboratively.
"Our main objective is to prepare our students to succeed in college," said Father Michael Reilly, Principal of St. Joseph by-the-Sea. "Blackboard is used throughout the country at top universities to promote collaborative learning and to offer online courses. Now our students will be familiar with the style of learning that is typical on the university level, along with the specific technology they will encounter after graduation."
The partnership is a direct result of Sea's continuing efforts to prepare students effectively for college through its college program, which thus far allows students to earn as many as 60 college credits. Students may also intern in a Health Career Initiative in affiliation with Staten Island University Hospital and comparable internships in Law and Business are forthcoming in the fall.
"There is a growing demand within the K-12 community for a hands-on approach to teaching and learning that includes building unique experiences, enhancing collaboration and discussion, and leveraging shared resources," said Brett Frazier, Senior Vice President of Sales for Blackboard Learn. "It is gratifying to see more and more high schools, like St. Joseph by-the-Sea, using Blackboard Learn to strengthen their college programs and arm students with the necessary skills to succeed in colleges and universities."
Student Council President, Joseph Pascalino, summed up student reaction when he said, "Sea's use of innovative technology will better prepare current and future classes for the academic road ahead when compared to other high schools on the Island; it's a tremendous advantage."
# # #