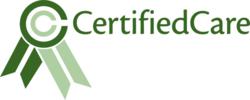 Due to the expected dramatic increase in the elderly population, the increased difficulties in taking care of them and certification becoming a state requirement, the Personal Care Aide is one of the fastest growing employment needs of our time.
Cleveland, Ohio (PRWEB) January 12, 2012
The desire to "age in place" is a growing trend among the elderly and Baby Boomer generation. Services that used to be solely offered in hospitals are becoming more readily available in the private home, making this possible. With the "age in place" trend paving the way for an emerging professional field called Personal Care Aides (PCAs), CertifiedCare strives to meet the growing demand of PCAs. The organization educates and trains PCAs making elder caregiving safer for caregivers and the elderly population.
Personal Care Aides are one of the top five fastest growing employment areas of our time. According to the Bureau of Labor Statistics, PCAs face a 46% growth rate until 2018. At this rate, roughly 2 million PCAs will be needed to care for the elderly. "We are seeing the impressive growth because of two main factors," says Dr. Cathleen Carr, Executive Director of CertifiedCare. "The first one being the ever increasing life expectancy due to better healthcare and the second being the aging of the Baby Boomer generation." According to a CRS Report for Congress, the life expectancy in the United States in 1776 was just 49 years old compared to 77 years in the year 2000. Additionally, all survivors of the Baby Boomer generation will be between the ages of 61 and 79 by 2025, doubling their population in 21 states.
Now, more than ever, individuals are taking on the personal responsibility to care for their loved ones. Providing in home care can be stressful due to several factors, with chronic illnesses being a main one; hence the appeal of a PCA to alleviate some of that stress. In addition, family caregivers spend an average of 22 hours a week caring for loved ones to help ease their burdens. According to a study by the AARP, that burden totals $450 billion a year in lost worker productivity, reducing earning capacity and retirement income. This amounted to about 3.2% of the U.S. GDP in 2009.
A PCA alleviates some of this stress by taking care of an elderly loved one and allowing family members to stay in the workforce. It is a PCA's job is to help people live in the home of their choice equipped with tools and design features that support independence. In addition, they are there to assure that the individual and their caregivers are safe. Personal Care Aides are not Home Health Aides. PCA's do not administer physically invasive therapies and do not need to work under the supervision of a nurse.
The tasks that accompany the PCA profession are very diverse and with the movement from hospitals to the home, more interdisciplinary than ever before. It is a PCA's role to provide preventive safety care and wellness assistance, meals, supplies, transportation to appointments and social activities, foster and facilitate connections between family members and the geriatric care team, and more. They are specially trained to work with frail elderly in their homes who are physically disabled or mentally impaired, dealing with a chronic illness or are otherwise unable to care for themselves on their own. They play an integral role in the health and well being of an elder by ensuring that they are taken care of in the absence of family caregivers.
"Now is the time for PCAs to get properly trained in at home eldercare," says Dr. Carr. "This training makes it easier and safer for everyone involved because of the many daily tasks that need to be handled." Additionally, certified PCAs can demand higher wages and advance in their field. Such organizations like CertifiedCare offer online classes with 20-100 hours of instruction and certification exams. Specialty areas can include: Legal and Financial, Personal Care and Safety, and Alzheimer's/Dementia.
Currently there is not enough support to handle the aging population that is coming forward in great numbers. According to the CDC, by the year 2030 the number of people aged 65+ is expected to rise to 71 million. This is an impressive change from the estimated 35 million in 2000. "Due to the expected dramatic increase in the elderly population, the increased difficulties in taking care of them and certification becoming a state requirement, the Personal Care Aide is one of the fastest growing and social employment needs of our time," says Dr. Carr. "The best time to invest in eldercare education and training is now while we are just ahead of the curve."
Educational requirements for PCAs vary by employer. Many PCA or family caregiver positions do not require a high school diploma or undergraduate degree, however completion of certification programs is becoming a state requirement. Illinois, Oregon, Arizona and California have laws and regulations already on the books. Other states have legislation pending with more states soon to follow.
CertifiedCare Strives to Meet High Demands for Personal Care Aides as Elderly Population Faces Explosive Growth is part two of a three-part series of topics covered by CertifiedCare.
About CertifiedCare
CertifiedCare offers family caregivers and Personal Care Workers certification in the area of elder caregiving in "at home" and assisted living institutional environments. CertifiedCare created the first online curriculum and training program for assisted living companions that incorporate law, business, and alternative therapies, while complying with the American Medical Association (AMA) Guidelines for elder caregiving. CertifiedCare has worked with over 1,000 caregivers from all over the United States and abroad.
CertifiedCare offers three caregiver certification programs for both family caregivers and professional Personal Care Workers: Basic Caregiving, Advanced Caregiving and Alzheimer's-Dementia Specialist Certification programs. For more information on CertifiedCare and their programs, visit http://www.certifiedcare.org.
About Dr. Cathleen Carr
Dr. Cathleen Carr is the founder and executive director of CertifiedCare. She is a nationally recognized Eldercare Specialist in the areas of wills, trusts, probate, elder law and holistic health and wellness.
Dr. Carr is a published author on various topics including eldercare, natural health and green living. She is a contributing author to: Examiner.com, Radientlife, Suite101.com, Alternative Health Review, National Diet Institute, BestNaturalHealthDirectory.com, Natural Medicine Ink (editor) and eHealthScience. She also is an herbalist and naturopathic practitioner, where she specializes in therapeutic herbalism and restorative vibrational therapies.
###