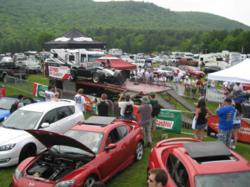 With this program, we are rewarding our various brand-loyal club members for their support while providing them with a truly memorable GRAND-AM race weekend experience
St. Louis, MO (PRWEB) January 13, 2012
Today's social media trends are all about connecting "like minded enthusiasts" via popular social media outlets such as Facebook and Twitter. But when it comes to activating and engaging those like minded enthusiasts in real-world activities and events, Shine Box Media and GRAND-AM racing are taking those relationships from the virtual into the real world.
The 50th Anniversary of the Rolex 24 at Daytona is serving as one of those real world activations with the addition of the Castrol Car Corral Experience. "Working with the staff at GRAND-AM and track officials, we are able to reach out to our member clubs and offer them a race weekend experience that we feel is the best value in racing." explains Mark McCracken, President of Shine Box Media. "For the 50th Anniversary of this iconic race, they have put together a package that any car enthusiast and race fan would enjoy being a part of, and we're excited to make the Castrol Car Corral Experience a part of this great event."
Perk-Rich Race Packages
Corral packages are available for the Continental Tire Challenge GRAND-AM 200 event on Friday ($35) and a Sat/Sun package to catch all of the Rolex 24 at Daytona activities ($45). Each package includes a general admission ticket to the race, a paddock pass, reserved corral parking, exclusive members-only garage tours, meet and greet events with different race teams and a driving tour of the track.
The Castrol Car Corral Experience is a part of each package and includes the Castrol Charity Dyno ($20 for 2 pulls) and prize wheel; cases of Castrol EDGE, hats and t-shirts in each corral given away as door prizes; Castrol goodie bags, Tool Box raffle, tailgate activities and giveaways all weekend.
"With this program, we are rewarding our various brand-loyal club members for their support while providing them with a truly memorable GRAND-AM race weekend experience," says McCracken.
Having done car corral activations at GRAND-AM Rolex Series races last year at Lime Rock Park and Mid-Ohio Sports Car Course, Castrol wanted to expand the program to include many of this year's most popular GRAND-AM Rolex Series events, including The Rolex 24 at Daytona.
"Bringing these highly involved and brand-loyal club members out to the race and providing them with a few extra perks has been a lot of fun," says Steve Focazio, GRAND-AM's Manager of Marketing and Promotions. "We enjoy building these types of relationships with club members, bringing them as a group out to the track and plugging them into all the pre-race activities."
In the four years since its inception, Shine Box Media has redefined the way the automotive aftermarket industry communicates and connects with the North American automotive enthusiast. To date, the Shine Box Car Club Network numbers more than 1,100 clubs across the country.
"As we continue to grow the number of clubs in our network, we are very excited about utilizing our innovative channel marketing tactics for an ever widening group of manufacturers and marketers," notes McCracken. "Connect with enthusiasts' passions and you've secured a very brand-loyal customer."
Corral Packages for the Rolex 24 may be purchased at http://www.daytonainternationalspeedway.com/corral.
About Shine Box Media:
Based in St. Louis, MO, Shine Box Media™ is an alliance of veteran advertising, event and sales promotion professionals offering integrated trade and consumer marketing solutions specializing in the automotive and automotive aftermarket industries. The company's myshinebox.com provides clients with exclusive access to one-of-a-kind grassroots interaction and e-commerce synergies with North America's extensive network of automotive enthusiasts. Clients include Castrol USA, Ford Motor Company, Fatheadz Sunglasses, Michelin USA, Cooper Tire and Black Magic Car Care Products among others.
For more information, contact: Shine Box Media, http://www.myshinebox.com, 314-394-1332
###