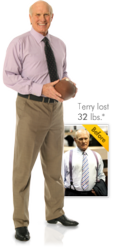 "I was sick of looking old, fat and ugly," Terry Bradshaw
Coral Springs, Florida (PRWEB) January 11, 2012
After the highly anticipated announcement that NFL great and Today in America TV show host Terry Bradshaw will now be the lead spokesman for Nutrisystem and the new Men's SUCCESS program, the 60-second spot can now be seen on You Tube.
A svelte looking Bradshaw tells viewers, "I was sick of looking old, fat and ugly!" Now, 32 pounds thinner, Bradshaw certainly does look better. "Terry has a healthy attitude about losing weight and he keeps it all very real with that Bradshaw sense of humor that certainly will be inspiring for men," says Doug Scoot, Executive Producer of Today in America TV."
View The commercial here:http://www.youtube.com/watch?feature=player_embedded&v=nz-ysJIrqwU
About The Campaign
Nutrisystem will feature Bradshaw individually, as well as with long time spokesman, Dan Marino, in a testimonial-style ad campaign as part of its 2012 diet season efforts aimed at the men's market, where the Company currently leads the category. To join Terry Bradshaw on the Nutrisystem SUCCESS program today, visit http://www.nutrisystem.com/success4u or call 1-888-841-2572 .
Today in America with Terry Bradshaw is an award-winning TV show that offers profiles and reviews of many fascinating communities, individuals and companies across the country and the world. Host Terry Bradshaw brings his trademark wit and charm to every episode. Viewers can see a Today in America sample at the show's official website (todayinamericatv.com) and on the official youtube channel (youtube.com/todayinamericatv).
###